Flight Simulator speeding up time explained: How to increase the sim rate and 'fast travel'
How to progress through your flight faster.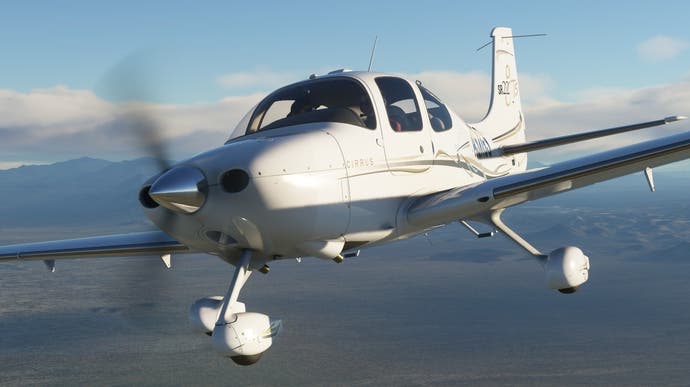 Flight Simulator's simulation speed is one of the lesser known features you can take advantage of in the 2020 simulation game.
It's possible to speed up time if you want to get through part of a flight faster with the sim rate feature - then slow it down again when you reach your desired location.
Not only that, it's possible to 'fast travel' to certain stages of a flight - useful if you want to get to cruise, descent or landing on a particularly long flight - using Travel To.
On this page:
For those prepared to fly the full distance of a flight, there are various time-based Flight Simulator Achievements for staying in your cockpit for extended periods.
Flight Simulator simulation speed: How to speed up and slow down time with sim rate explained
By default, Flight Simulator will run at real world speeds. However, there is a keyboard shortcut to speed it up and slow it down using sim rate - by default this is by pressing the 'R' key.
To speed up the time of Flight Simulator's simulation with sim rate, you need to press the R, then the CTRL and + key on the numpad.
To slow down the time of Flight Simulator's simulation with sim rate, you need to press the R, then the CTRL and - key on the numpad.
If you are playing on Xbox and only have access to a controller, by default you must first assign 'sim rate' to a button before it can be used. To do this, go the controls area of the menu then search for 'sim' using the left-hand search box, then assign to a button (we went for clicking in the right stick). Now when you enable sim rate - you only need to do so once per session - hold RB and the left trigger to slow down, or the right trigger to speed up.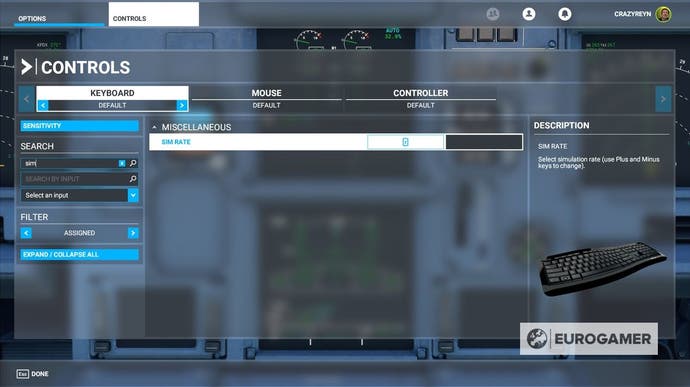 When it works, the sim rate change will be very noticeable - so only do it when you are in a safe flying position.
Note the sim rate change will not work when using AI Control, as any button inputs will not be accepted by the game.
---
For those investigating their Flight Simulator options, we have a planes list and airport list for each launch edition, a list of Flight Simulator Achievements. Then, when you start playing, we have explainers on weather and liveries, multiplayer, using autopilot and sim rate, and how to use the game's equivalent of photo mode with Active Pause.
---
How to 'fast travel' in Flight Simulator with Travel To
As well as the above sim rate change, you can also 'fast travel' to a certain point in your flight.
To do this, open the toolbar at the top of the screen, and select Travel To.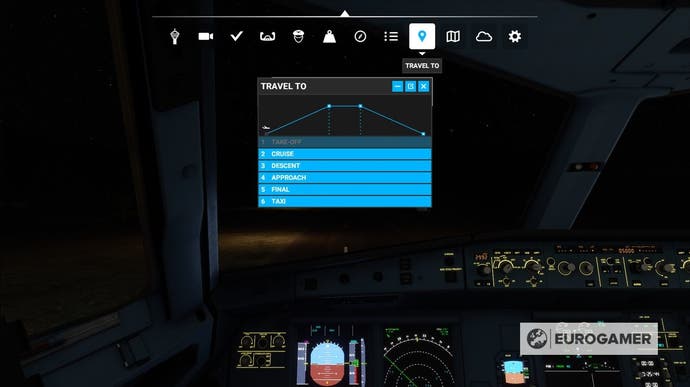 This will open a window with a visualisation of the various stages in your flight plan - from Take-Off, to Cruise, Descent, Approach, Final and then Taxi.
Select the stage you want, and it'll skip ahead. Note if you are playing in real weather conditions, you'll be asked whether to keep these in your new flight position.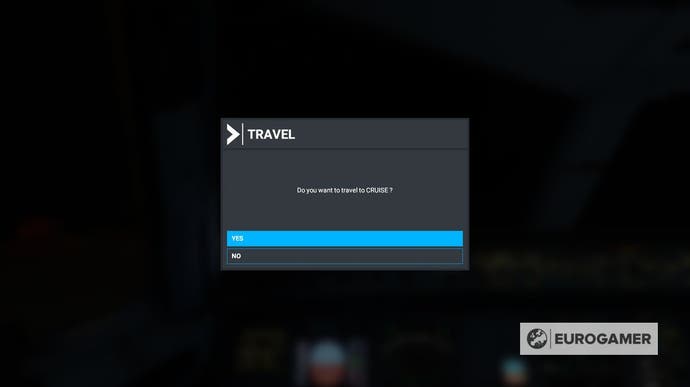 Additionally, not every mode will support 'fast travel' - such as training and other activity-based challenges - and you also need to ensure you have enough fuel in your plane to progress to certain stages on longer flights.
Now you have worked out how to fast travel and change the sim rate, learn about changing weather and time of day.