Flight Simulator camera views and 'photo mode' explained: How to go to third-person and use Active Pause
How to look outside of the cockpit - and use the game's version of a 'photo mode'.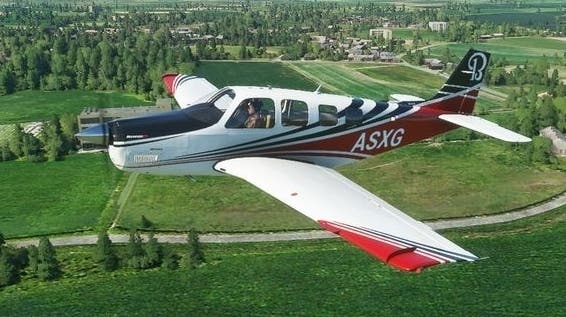 Flight Simulator marks the return of Microsoft's long-running simulation series - and it's more accessible and customisable than ever.
Though it comes with a useful tutorial mode, and a full index of controls for your hardware, one of the basics which isn't too heavily explained is how to change camera views in Flight Simulator. Perhaps, wisely, the game wants you to focus on how to use a cockpit before you get distracted by the stunning views.
There is also Flight Simulator's photo mode, known as Active Pause, allowing you to stop your flight then set the view so you can take your own photos.
On this page:
Flight Simulator change camera view explained: How to switch between third-person and cockpit views
Changing between the two primary views - Cockpit (or first-person) to External (or third-person) - is as simple as pressing a single button.
To change camera views in Flight Simulator, press the 'End' key on the keyboard, or the 'View' button on an Xbox Controller (it's the one above the D-pad with the two small squares).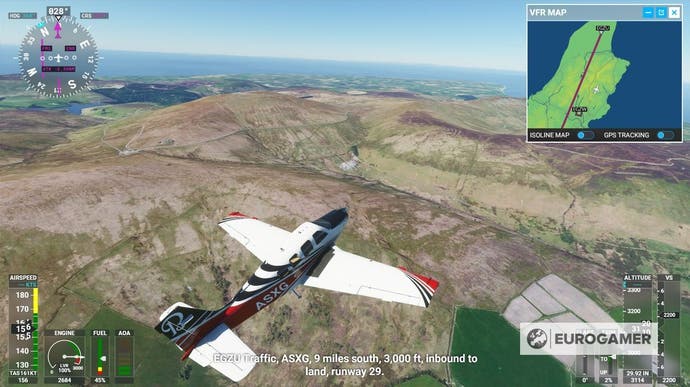 This will switch between the two viewpoints - useful if you want to see your surroundings easier, or gauge your distance from a runway or other objects better.
It's worth knowing whether you're viewing the plane externally or in the cockpit, you can use hold the right mouse button / move the right analogue stick to move the camera.
There are a range of other camera views you can take advantage of - which we'll discuss how to find as part of making the most of Flight Simulator's version of a photo mode, Active Pause.
---
For those investigating their Flight Simulator options, we have a planes list and airport list for each launch edition, a list of Flight Simulator Achievements. Then, when you start playing, we have explainers on weather and liveries, multiplayer, using autopilot and sim rate, and how to use the game's equivalent of photo mode with Active Pause.
---
Flight Simulator's Active Pause explained: How to enter photo mode
Flight Simulator has a photo mode of sorts, though it takes one or two steps to find. First, we need to pause the game using a mode named Active Pause.
To enter Active Pause in Flight Simulator, press the 'Pause' key on the keyboard. (You'll find it on the upper right, on the same row as the 'Print Screen' key.) On Xbox, you must open the toolbar - click in the left stick - and by default it's on the very left. Note - it won't appear in every mode, such as Discovery Flights.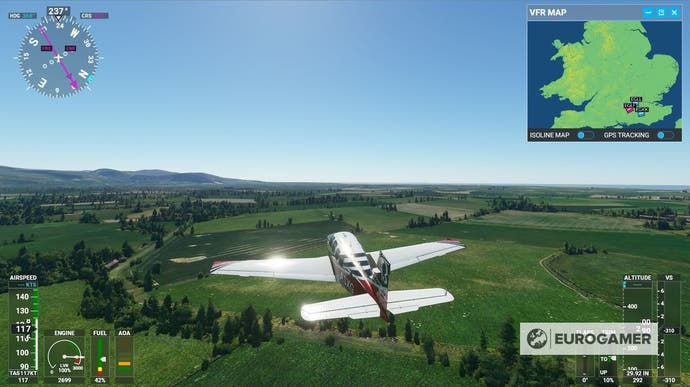 Upon pressing, the simulation will halt. Though the plane's engines and propellers will seemingly still be running, it will be suspended in mid-air. This allows you to have a breather and take in the views around you.
Of course, your current view - whether it's the cockpit or standard external view - might not be enough for photo taking. If you want to take dramatic shots, and strip away on-screen elements, then you need to change to 'Showcase' mode.
To do this, head to the Toolbar at the top of the screen, then select Camera. Within this window, now select 'Showcase'.
By default, this changes your camera to a drone view and clears the screen of various user interface elements.
From here, you are free to change the zoom, focus, move the camera around the plane (or keep it locked in centre) and so on. Once you're happy with things, take screengrabs with your capture service of choice, or by pressing the Windows + Print Screen keys if you want to keep things simple.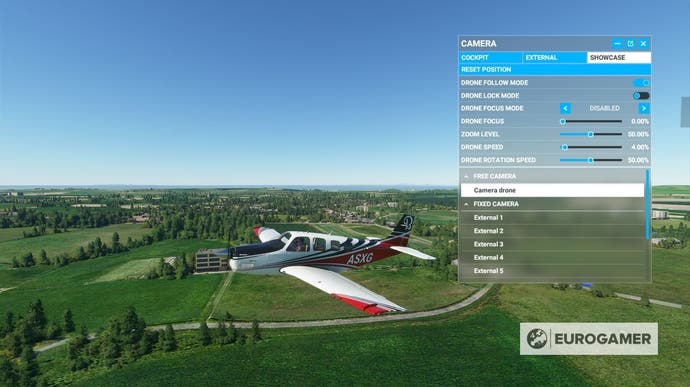 When you are ready to resume playing, you must select one of the Fixed Camera options within this Showcase tab, or go back to the Cockpit or External views, before pressing the 'Pause' key to continue playing. You cannot resume the simulation from a Showcase view!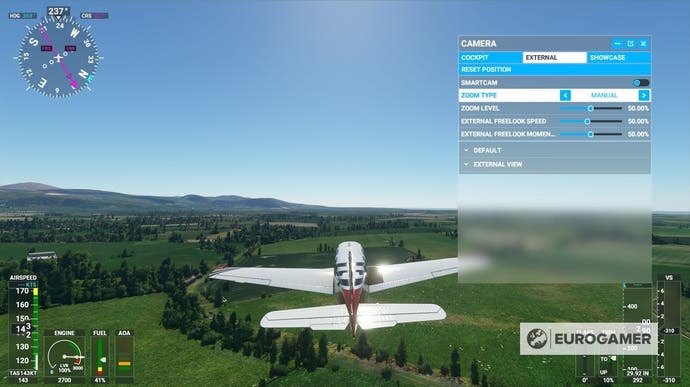 Another thing to note - it might not be possible to use 'Active Pause' in the activity-based modes of the game - so if you cannot access the toolbar and the camera options, then try it in the free flight mode.