Flight Simulator controller recommendations: Our picks for budget, mid-tier and high end joystick setups
How to immerse yourself as much as possible.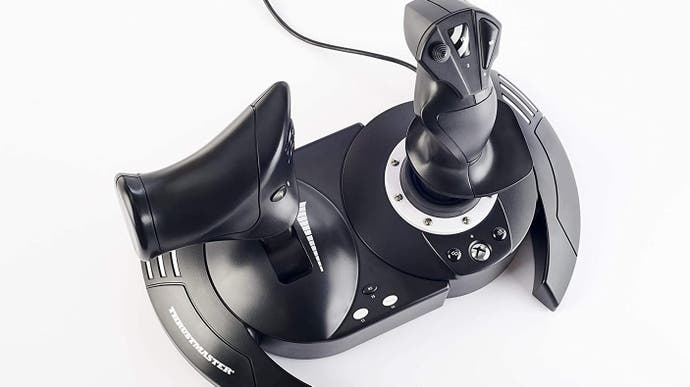 14 years on from the last entry, Microsoft Flight Simulator is finally back - and its return sees a whole wave of lapsed or new players taking to the skies.
And if it's your first time up there in a while, it can all be a bit bewildering - even before you've sat at the controls of a Cessna or a more complex beast like a Boeing 747, there's all sorts of options and extras to consider. Like, for example, what controls you might consider using.
This page offers an overview of the many Flight Simulator hardware setups you can consider, according to your budget - from using an Xbox controller through to instrument panels and pedals.
Note: This page is specifically for the PC edition of the game. It's possible some of the following will also work on Xbox, but we cannot confirm without testing. Know there are console-supported controllers out there - such as the VelocityOne Flight from Turtle Beach.
On this page:
Can you use an Xbox controller in Microsoft Flight Simulator?
Microsoft Flight Simulator is a flexible thing, catering to casual players who just want to tour the world from the comfort of their own sofa to wannabe pilots who want to role-play all 6 hours of a transatlantic flight.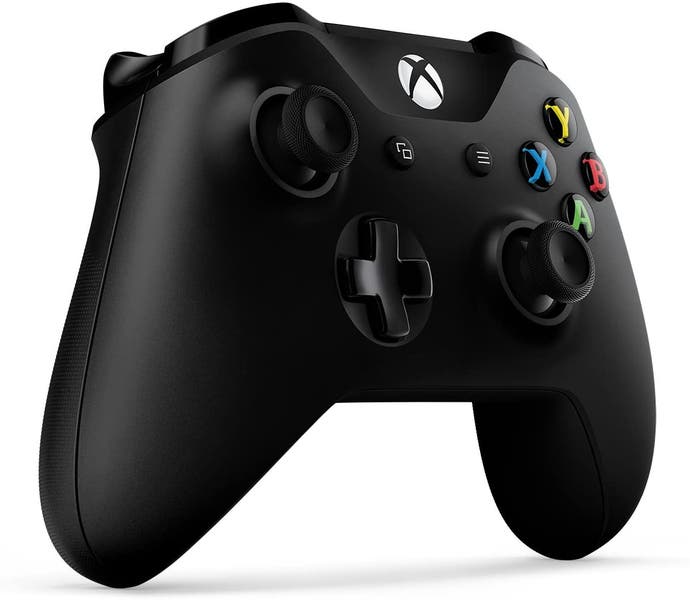 As such, it caters to all sorts of control options - from mouse and keyboard through to a fully modular cockpit with multiple screens and button boxes.
You can play Microsoft Flight Simulator with an Xbox controller and have a perfectly satisfying experience - though you might need a keyboard close by for some specific commands, such as changing sim rate and autopilot shortcuts.
If you're looking to invest in one of these, remember there's a refresh later this year with the arrival of the Xbox Series X controller, if you can wait a couple of months.
However, if you're looking for a bit more immersion there's more than one option when it comes to flight-specific hardware.
The budget Microsoft Flight Simulator hardware and joystick setup
If you want to look beyond a gamepad, a cheap HOTAS - which is an acronym for hands on throttle-and-stick, but we'll stick with HOTAS because it's easier to type and sounds funnier - can be yours for relatively little.
The basic Thrustmaster T.Flight HOTAS should cost you well under 50 quid (although limited stock and some opportunistic sellers mean it's going for a bit more than that at present).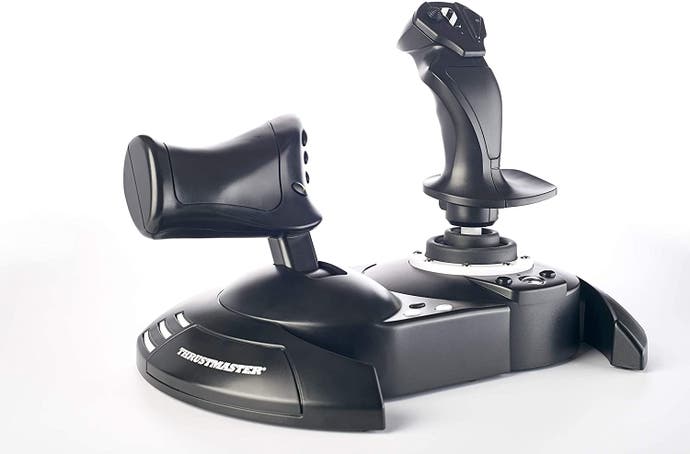 It's simple and feels fairly cheap, but it's more than up to the task and is a big step up from the gamepad experience, with a suite of buttons available to map the many controls of a plane and with a z-axis on the stick for rudder control.
For a little bit more - expect to pay just over £100 - Thrustmaster bundles together the T.Flight HOTAS with its entry level T.Flight Rudder Pedals, offering perhaps the best budget way into the complete flying experience.
The mid-tier Microsoft Flight Simulator hardware and joystick setup
So you've been bitten by the flying bug and you want to invest in a slightly more professional rig? Your first port of call will be upgrading to a yoke controller, which affords you more accuracy and, most importantly, feels even more like the real thing.
For an entry level option, you can't go wrong with the Logitech Pro Flight Yoke system, which will set you back around £140, and as a bonus comes bundled with a throttle quadrant. Control set-ups are completely modular, so it's perfectly possible to use a Logitech Pro Flight Yoke with Thrustmaster's T.Flight Rudder Pedals for a near-complete cockpit.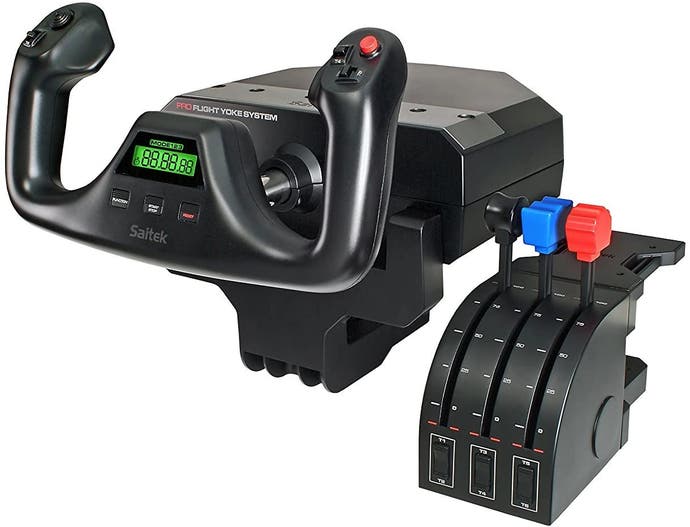 If you're looking for a slightly classier stick option, then the Thrustmaster TCA Sidestick Airbus Edition is just the trick, faithfully modelled on the A320's own stick.
You can use it on its own easily enough, and it's the perfect thing to have sitting discreetly on your desk if you want to hop in and out of flights. An accompanying throttle quadrant is due for release later this year, which will also be bundled up with the TCA Sidestick as part of the Thrustmaster TCA Officer Pack Airbus Edition.
---
For those investigating their Flight Simulator options, we have a planes list and airport list for each launch edition, a list of Flight Simulator Achievements. Then, when you start playing, we have explainers on weather and liveries, multiplayer, using autopilot and sim rate, and how to use the game's equivalent of photo mode with Active Pause.
---
The high-end Microsoft Flight Simulator hardware and joystick setup
And if you're really serious about this flight sim lark, be prepared to spend some serious money.
When it comes to rudder pedals, the Thrustmaster TPR Pendular Rudder is a pretty hardcore piece of kit - but be warned that it takes up quite a bit of space so you'll need to clear under your desk.
Thrustmaster also offers a high-end HOTAS with the Thrustmaster Warthog, which might be intended for more militaristic purposes than Microsoft Flight Simulator offers but which nevertheless delivers a premium feel.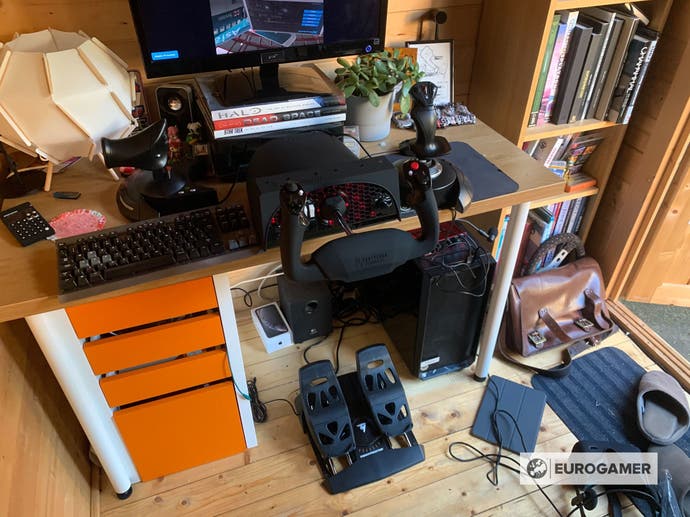 For a premium yoke, Honeycomb's Alpha Flight Controls are perhaps your best option - they're beautifully designed, complete with an array of switches for various cockpit controls and feel just great in the hand.
They've not too expensive either, coming in at around £230 - though be prepared to spend that again if you want to buy Honeycomb's forthcoming throttle quadrant, which looks every bit as luxurious.
And if you're really, really serious there's no stopping there - you might want to look into some of the more high-end options from boutique companies such as VKB Controllers in the bustling third-party marketplace.
Tinkering with hardware set-ups and controller configurations is one of the pleasures - and the pains - of playing with sims, and with Microsoft Flight Simulator the sky really is the limit.