FlatOut 3 developer making three 3DS games
It's true.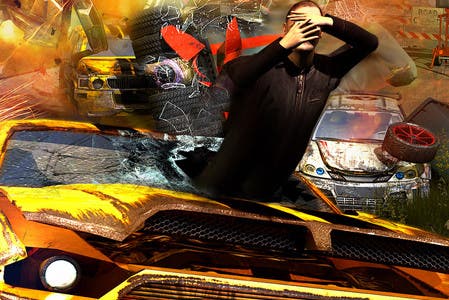 FlatOut 3 developer Team6 Game Studios is working on a trio of new games for Nintendo 3DS.
The studio behind the recent PC car crash simulator had originally intended to launch at least one 3DS game near the system's launch. But those plans were scuppered when the game's publisher got cold feet.
Team6 blamed the incident on the fact its "3DS publisher lost confidence in the platform in an early stage", company boss Ronnie Nelis revealed.
"Luckily we had other clients and projects for other platforms to fall back on, but we never forgot about 3DS and its possibilities," Nelis continued. "Only as from the beginning of this month, a lot of both old and new clients realise that the Nintendo 3DS has become really hot in terms of sales."
One of Team6's new 3DS games will be a sequel to the developer's Monstertrucks Mayhem Wii. Nelis said the announcement continues the studio's "proven history of successful Nintendo Wii games," which includes Pacific Liberator and Calvin Tucker's Farm Animal Racing.
"Our goal is to make the new 3DS games as good looking and even more fun to play as our Nintendo Wii games," Nelis reassured. "It's no surprise that the majority of loyal Team6 fans are also fans of the Nintendo platforms, so I know they will enjoy our new games for 3DS too."
But does this mean the company has retired from Wii development? Not at all. "Even now we get new requests to develop new titles, both big and small, for the Nintendo Wii. We hope this is also because we have proven to deliver good quality and service to our clients, maintaining an excellent cooperation, of course."
Team6's latest effort, FlatOut 3, this month received a 1/10 in Eurogamer's Flatout 3: Chaos & Destruction review.