Racing Evoluzione
First Look - you build the cars, Infogrames supplies the tracks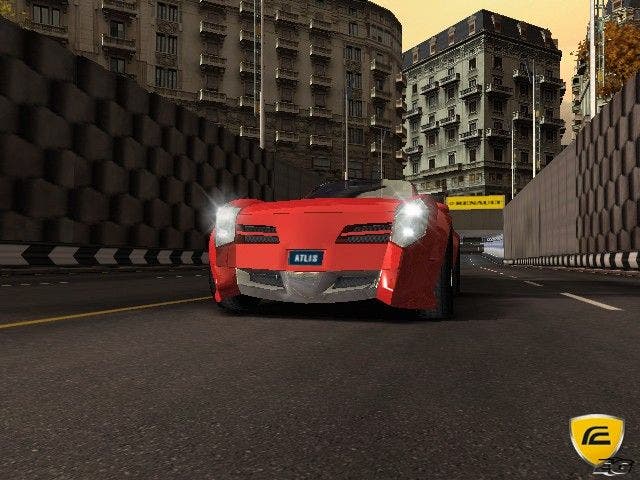 Brandy
The objective is to build your own successful racing brand, a by-product of which, conveniently enough, is racing against the world's top cars on fantasy circuits. You begin the game with a brand name and logo of your choice, a modest garage and a mechanic, who quickly populates it with your own cars. By winning races with these cars your brand grows in popularity and status, and your staff grows to include an R&D department, automotive technicians, a production manager and even a sexy secretary (who will doubtless appear in the game's promotional material).
Your employees will offer suggestions on what sort of direction to take with your cars, and although it might not look it, their knowledge is apparently borne of thousands of hours of research on the part of Infogrames. Instead of making up their own improbable vehicle designs, the developers toured professional design schools the world over and amassed a collection of impressive concepts. These form the basis of many of the suggestions offered in the game, and the better your brand does, the more concepts you find yourself offered. As the company's top man you have to choose concepts to fit tracks and conditions - in other words, you have to align the best circumstances for your car to be seen in.
In the meantime your secretary will court sections of the press, and you'll be given the chance to seize marketing opportunities and work the brand off the track. Orders for your vehicles will mount up as you build your brand, coming from individuals, dealers and even the police, who are in the market for a new squad car. By the end of the game, you should have built up a full line of cars, sought and secured sponsorship for many of them, and displaced the 40 major brands Infogrames has secured from their positions of industry dominance.
Conclusion
Infogrames believe the reward structure and quaint gimmick behind Racing Evoluzione will convince players that it's more than just a simple Gran Turismo knock-off for the Xbox. We're waiting to see slightly more of Evoluzione before we jump to those sort of conclusions, but on the surface at least the concept has a lot of potential.