Fishy management sim Megaquarium adding breeding in new Freshwater Frenzy expansion
Out in June on PC.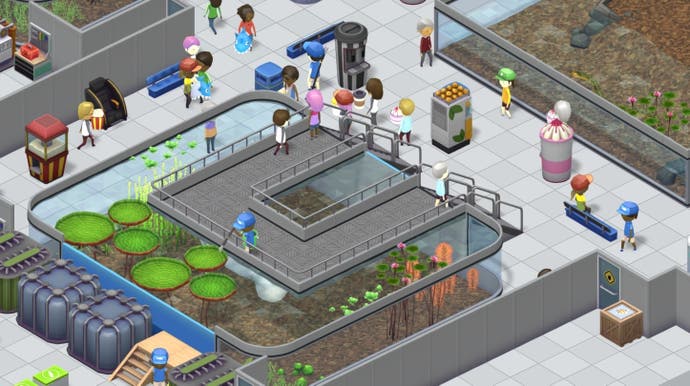 Developer Twice Circled's enormously enjoyable aquarium management tycoon game, Megaquarium, is dipping its toe into new waters next month with the arrival of its first paid expansion - titled Freshwater Frenzy - which comes to PC on 4th June.
Megaquarium originally released on PC in 2018 before expanding to consoles last year, and offers familiar theme-park-sim-style thrills, albeit with a far more genteel, fishy twist.
Starting with a barren plot of land, the goal is to build a thriving tourist attraction, carefully managing layout, staff, research, and funds. Obviously, Megaquarium's theme brings its own unique challenges too, forcing players to think carefully about the composition of their tanks - light, water type, temperature, filters, scenery, even co-habitants - in order to keep over 100 creatures content, including the likes of crustaceans, turtles, jellyfish, and sharks.
Freshwater Frenzy expands that engaging core still further by introducing, yes, an all-new freshwater habitat which supports 30 new types of fish, reptiles, and amphibians, each with their own care and aquascaping requirements. pH levels will also need to be created and maintained for the first time, but the big addition is fish husbandry - enabling players to breed and create hybrids, even produce unique colour and pattern combinations.
Elsewhere, there are "dozens" of new items and customisation options, including information posters, plants, equipment, seven new tanks, four new staff accessories, plus four new paints. And tying everything together is a new freshwater-focussed five-stage campaign.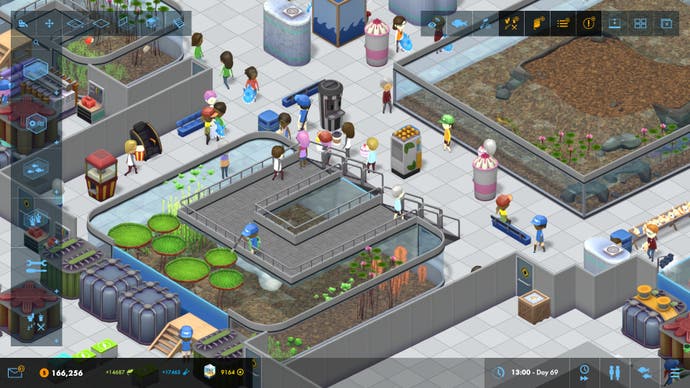 That's not quite all, however; a free update to the core Megaquarium experience will arrive alongside the Freshwater Frenzy expansion, introducing a range of new features and quality of life improvements. Players will now, for instance, need to feed all live fish food (such as lug worms and artemia) to ensure supplies remain bountiful, and there are new care requirements, a new animal ledger, the option to change default paint, and more.
Megaquarium's Freshwater Frenzy expansion will be available for purchase on Steam and GOG when it launches on 4th June, and costs $11.99 USD (around £10). Twice Circled says it's "keen to bring" the expansion to consoles "at a later date".