First Monster Hunter 3 Ultimate Wii U screenshots show improved graphics
Shiny new textures.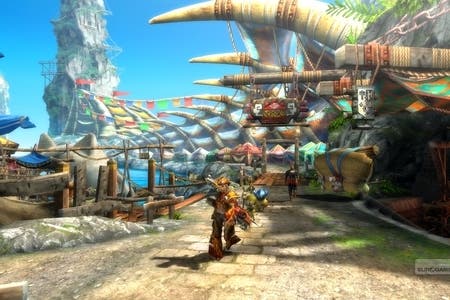 Capcom has released the first screenshots of the Wii U version of Monster Hunter 3 Ultimate.
Monster Hunter 3 Ultimate on Wii U shares exactly the same content as the Nintendo 3DS version but with improved visuals and reworked textures.
It works in tandem with the Nintendo 3DS version, already out in Japan but scheduled to launch on these shores alongside the Wii U version in March 2013.
You can save data across both versions after downloading a free app from the 3DS eShop, which you use to transfer data from the Wii U to the 3DS and vice versa over wi-fi.
A Wii U console and up to three Nintendo 3DS consoles can communicate for four-player local co-op play over wi-fi. Using this, in combination with the data transfer between consoles, means you'll be able to invite your friends over for what Capcom hopes will be Monster Hunter parties, them bringing their data files on their 3DS to communicate with a Wii U, and all four players playing in the same game.
Unlike the 3DS version, the Wii U version of Monster Hunter 3 Ultimate has online play, although we don't know much about how this will work.
Eurogamer went hands-on with the Wii U version at the Tokyo Game Show last month. The game benefits from improved camera control via the second thumb stick and the new targeting system, triggered by holding RZ and pressing L. The GamePad screen can be used for map and inventory management, and makes using items as simple as touching on an icon.