First Humble Choice bundle launches featuring Shadow of the Tomb Raider, Blasphemous and more
Choices, choices, choices...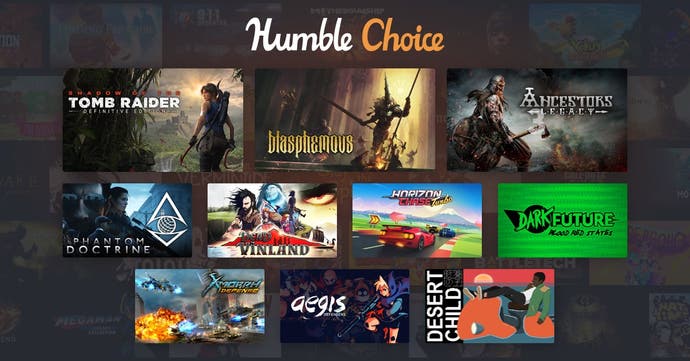 Back in October, it was announced that the Humble Monthly subscription service would be undergoing a rework to become Humble Choice. Well, the first edition of the new bundle format is live.
Now, instead of paying a regular fee upfront and getting access to a mystery bundle of games each month, Humble Choice allows you to pick from a diverse selection depending on your membership level.
Here's the full list of ten games you can choose from in the Humble Choice debut:
Shadow of the Tomb Raider
Blasphemous
Ancestors Legacy
Phantom Doctrine
Dead in Vinland
Horizon Chase Turbo
Dark Future: Blood Red States
X-Morph Defense
Aegis Defenders
Desert Child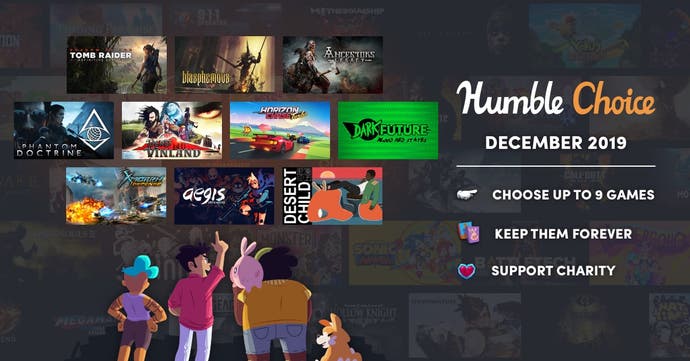 Premium members who pay £15.99 a month get to choose nine games from the above list to add to their collection forever. You also get access to the Humble Trove library and a chunky 20 per cent off at the Humble Store.
The Basic tier will set you back £11.99 a month and allow you to pick three games from each bundle. That also comes with Humble Trove access and 10 per cent off at the Humble Store.
There's also a £3.99 a month Lite tier, but with that you only get to dip into the Humble Trove along with 10 per cent off at the store.
What do we think of this new format, then? To me, the value seems a little off-kilter with the Basic plan as with that you now have to pay more money each month for about a third of the games you'd get before. Pick smartly, though, and you could find yourself a decent saving if you sign up on a month-by-month basis.
For example, if you get Lara's latest globetrotting relic-thieving misadventure Shadow of the Tomb Raider, the grotesque/gorgeous action-platformer Blasphemous and cold war strategy gem Phantom Doctrine in the December bundle you'll be saving around £50 compared to buying them at full price.
And at least you can't miss out on a good bundle now, too. You can simply wait and see what games are up for grabs each month before you get to make your choices, so it's all about signing up for the months you like the look of instead of paying in advance and hoping you get something good.
In any case, if you like the look of some of the games available this month you can sign up for Humble Choice right here. If you previously had a Humble Monthly membership, you'll have been automatically enrolled into the Humble Classic tier, which gets you all ten of each month's games for your old subscription price. Not bad, there!