The Command & Conquer Remaster lets you switch between classic and modern graphics with a press of a button
Nod of approval.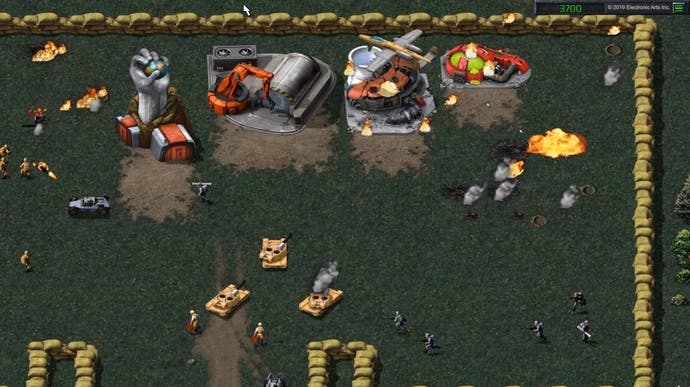 EA has released the first gameplay clip of Command & Conquer Remastered - and lovely it looks indeed.
The 28 second video thrusts us right into the action, with a GDI assault on a NOD base. There are tanks, explosions and screams. Units are lost and silos are needed.
The video begins with the original visuals then transitions to the new, remade visuals, which are, as you'd expect, a lot sharper.
Command & Conquer Remastered, which includes a remaster of the original C&C as well as a remaster of Command & Conquer: Red Alert and their expansion packs (Covert Ops, Counterstrike, and Aftermath), is in the works at Petroglyph Games and Lemon Sky Studios.
In a blog post, producer Jim Vessella said the remaster has been developed in the classic 2D visual style, which keeps it authentic to the original. This is a remaster, not a remake after all.
"When we recovered the source code to C&C Tiberian Dawn and C&C Red Alert, this gave us a viable avenue to accurately match the core gameplay, feel, and signature look of the legacy titles," Vessella explained.
"We felt the 2D style was the best way to bring all these elements together, and ultimately achieve the authenticity we were looking for."
The developers at Lemon Sky have re-concepted, re-modeled and re-animated every gameplay asset from scratch, Vessella said. You can see this in the remastered Construction Yard and Tesla Tank.
The upshot of this approach is the game has real-time switching of legacy / remastered graphics in campaign missions. So, at any time during a campaign mission you can tap a single key to switch between the original assets at 320 x 200, and the remastered assets up to 3840 x 2160 resolution.
You can also zoom the camera, "with an effective zoom distance between the DOS and C&C Gold camera heights."
There's no release date yet for Command & Conquer Remastered, but already it's looking good.