Final Fantasy 15 - Seaside Scamper and Water Trotter racing courses and how to earn their Trophies
How to earn all the medals you need from the timed Carnival.
The Seaside Scamper and Water Trotter courses are special Chocobo Racing tracks available during the month-long Moogle Chocobo Carnival.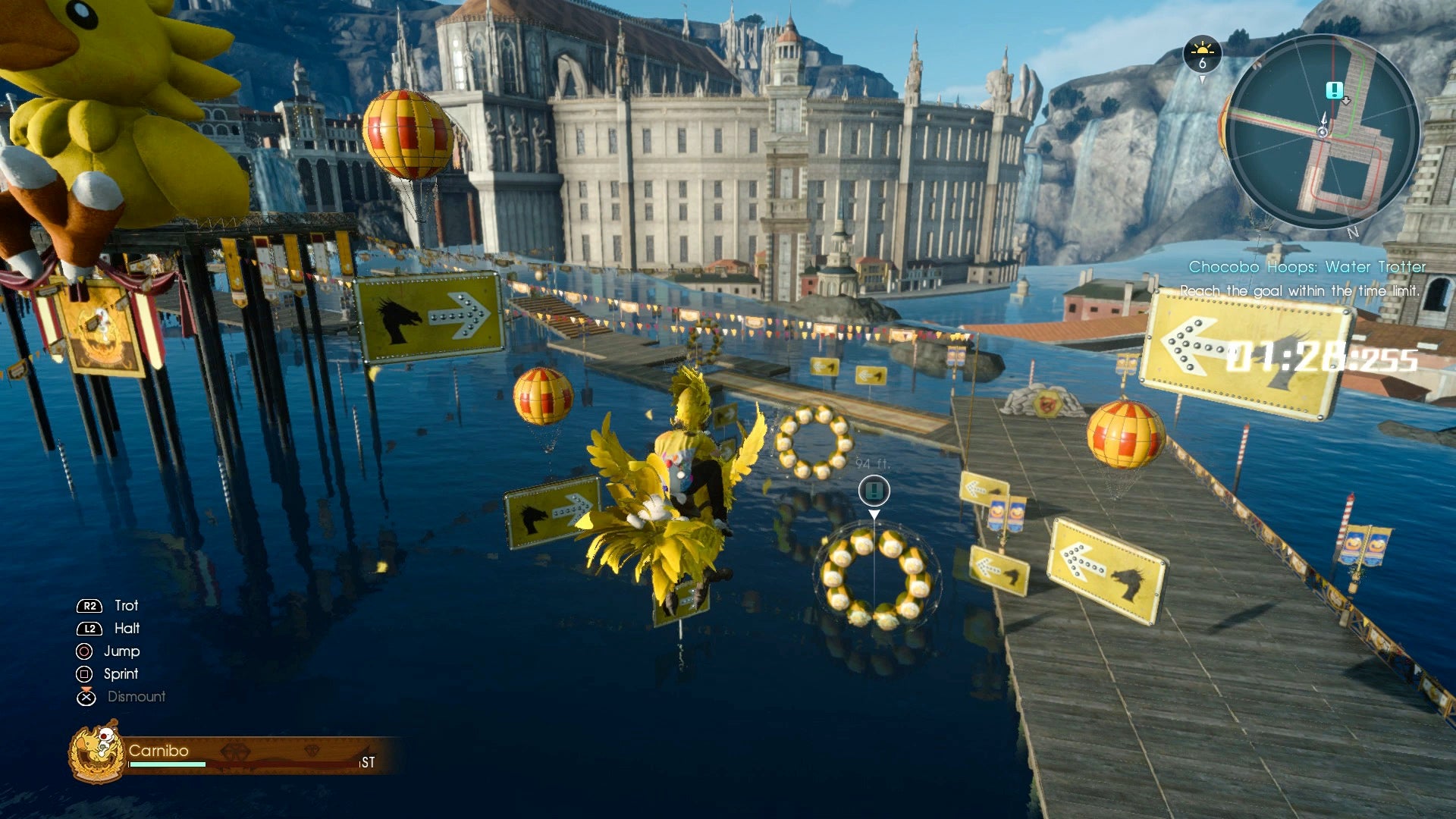 Set around the docks of Altissia, what sets these apart from other Chocobo Racing courses is the water setting, where going off course will see you fall into the drink, requiring you to swim around and find your way back on track, taking up precious time.
While time is of the essence, you can make a mistake or two or neglect your sprint boost and still easily finish each one, earning yourself a handful of Medallions to spend in the festival.
However, there are rewards for hitting hidden "impressive" times, giving you Seaside Scamper Trophy and Water Trotter Trophy Key Items to take away. We recommend unlocking them while the festival is available, as it's unlikely you'll be able to get them again at a later time.
Seaside Scamper racing course
Most of this course is pretty straightforward, but you'll likely slip up during two middle sections that come one after another.
After you leap through a central hoop that is in front of fountains of water, you'll go up a ramp. Take a long jump and glide from this to avoid the three small gaps in the deck. These are very difficult to leap over individually, and can't be stepped over, meaning it's very easy to drop into the water. If you do fall, simply leap back on to keep going.
What follows is another long leap and a glide to get to the far platform. Provided you hit these sections cleanly and hit most frog boosts, you should make the time easily.
Our "impressive" time that unlocked the Seaside Scamper Trophy: 45:988
---
If you're interested in other activities from the event, our Moogle Chocobo Carnival guide provides an overview of activities, while we have locations and solutions for the Oedka ke Chocochicks, The Brothers Kupomazov, Seaside Scamper and Water Trotter Chocobo Racing courses and Decorations: Decoded.
---
Water Trotter racing course
This has a couple of sections that force you to swim through water. You'll be introduced to this by leaping off a high platform, where if you time it right, you can glide then drop straight down in front of the hoop below. You can save time through the water by repeatedly jumping, but the problem with this is the handling and orientation of the Chocobo becomes very unsteady. As such, do this at your own risk, and you might prefer just swimming straight ahead if you're struggling.
The hardest section of all is after you get out the water, go through a hoop and veer right onto a long strip, hitting a frog boost to some platforms far ahead. There are two choices - two smaller platforms left, and one long one right. The right looks more tempting, but the left is no more difficult, as you'll easily land on the first part, hitting another frog boost and can leap again to the far end.
Our "impressive" time that unlocked the Water Trotter Trophy: 1:16:582
If you mess it up, don't worry about it - you can climb up on the right and continue on, and you should easily at least finish the race within the time limit, but to get the par time for the Trophy, you have to master this section as well as swimming in water. It took us a handful of attempts, but keep practicing and you'll master the toughest Chocobo Racing track to date.