Final Fantasy 13-2 sales well down on FF13
Japan charts: how the Vita's launch line-up fared.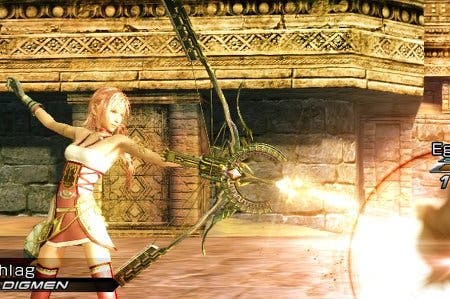 Final Fantasy 13-2 entered this week's Japanese software chart at number one, but sales of the game were way down on that of its predecessor.
The RPG sequel sold 525,271 to take the top spot, but that's nearly a third of the 1.5 million copies Final Fantasy 13 moved in its first four days back in 2009.
The game is due out on these shores on 3rd February 2012.
Elsewhere on the chart, 3DS software continued to impress, with Monster Hunter Tri G, Mario Kart 7 in second and third, new entry Inazuma Eleven Go at fourth and Super Mario 3D Land in fifth.
The highest charting Vita game in the system's first week on sale was Everybody's Golf at seven, ahead of Uncharted: Golden Abyss in eighth. Two other Vita launch games made the top 20 - Dynasty Warriors Next at 18 and Lord of Apocalypse at 19.
Here's the full chart, courtesy of Andriasang:
Final Fantasy XIII-2 (Square Enix, PS3): 525,271 - NEW
Monster Hunter Tri G (Capcom, 3DS): 208,427 (Life to date: 730,386)
Mario Kart 7 (Nintendo, 3DS): 182,418 (789,871)
Inazuma Eleven Go (Level-5, 3DS): 135,259 - NEW
Super Mario 3D Land (Nintendo, 3DS): 112,533 (837,143)
Kirby's Adventure (Nintendo, Wii): 71,028 (398,516)
Everybody's Golf 6 (Sony, Vita): 61,412 - NEW
Uncharted: Golden Abyss (Sony, Vita): 48,224 - NEW
Just Dance Wii (Nintendo, Wii): 44,021 (323,293)
PokePark 2 (The Pokemon Company, Wii): 43,829 (164,018)
Wii Party (Nintendo, Wii): 42,632 (2,129,236)
Magician's Quest: The Merchant's Store of Sorcery (Konami, DS): 35,068 (81,110)
Mario & Sonic at London Olympics (Sega, Wii): 34,351 (64,573)
Shin Kamaitachi no Yoru (Chunsoft, PS3): 33,686 - NEW
BlazBlue Continuum Shift Extend (Arc System Works, PS3): 32,992 - NEW
Wii Sports Resort (Nintendo, Wii): 30,804 (734,046)
Taiko Drum Master Wii Ultimate Version (Namco Bandai, Wii): 30,046 (100,284)
Dynasty Warriors Next (Tecmo Koei, Vita): 29,181 - NEW
Lord of Apocalypse (Square Enix, Vita): 28,742 - NEW
One Piece Gigant Battle! 2 (Namco Bandai, DS): 28,406 (207,458)
Over on the hardware chart, the Vita failed to unseat the 3DS, though Sony's system was only on sale for two days.
As reported earlier this week, the Vita sold just shy of 325,000, compared to the 3DS's tally of 367,691 up from 350,321 last week.
The 3DS is now just 399,000 units shy of selling four million units in Japan this year. That's way ahead of schedule - earlier this month Nintendo CEO Satoru Iwata said he hoped it would reach that landmark by its first anniversary in February.
Elsewhere on the chart, the PlayStation 3 followed in third, the PSP in fourth and the Wii in fifth. Hardware sales were up across the board in the run up to the holiday period.
3DS: 367,691 (Last week: 350,321)
PlayStation Vita: 324,859
PlayStation 3: 65,119 (44,661)
PSP: 64,468 (51,191)
Wii: 60,916 (46,018)
DSi XL: 5600 (4007)
Xbox 360: 3584 (3211)
DSi: 3523 (2609)
PlayStation 2: 1400 (1268)
DS Lite: 32 (14)