Fighting game Fantasy Strike goes free-to-play, gets two new characters
Clean sweep.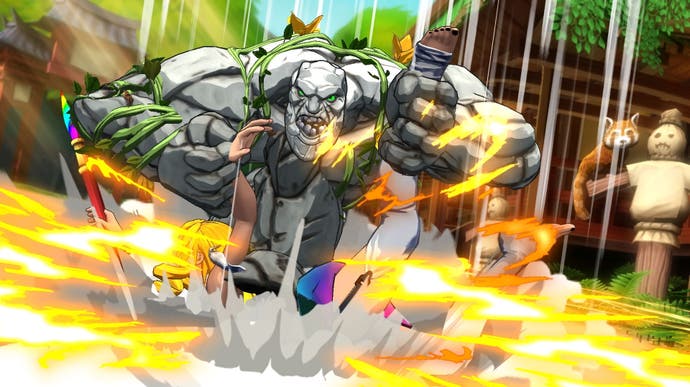 Fantasy Strike is now free-to-play. That's across PC via Steam, Nintendo Switch, PlayStation 4, Mac and Linux.
Fantasy Strike is a fighting game designed by David Sirlin, the lead designer of Super Street Fighter 2 Turbo HD Remix.
I've covered Fantasy Strike before because it does interesting things to try to make the genre more accessible. Most recently I reported on Fantasy Strike for turning frame advantage into a visual effect - a first for a fighting game.
Now, you can download and play Fantasy Strike for free. The free version lets you fight as the entire roster immediately with no grind to unlock. Available modes for free are practice, solo matches versus the AI, online casual and ranked matches, and spectator mode. There are two new characters added alongside the move to free-to-play: Quince, who confuses opponents with illusions, and General Onimaru, a powerful swordsman with an unblockable special attack.
New players can unlock additional game modes, such as local versus mode, online matches against friends, Boss Rush mode, Survival mode, and an Arcade mode with illustrated narrative sequences, via the £15.49 Core Pack.
A subscription option called Fantasy+ gets you double XP, special Master Costumes for each character who reaches level 20, and the Replay Theatre. Fantasy Strike veterans get all the access they had before as well as 60 new costume colour sets.
"We worked tirelessly to find a way to maintain the competitive integrity of Fantasy Strike that our existing players love while opening it up to an even broader audience," said Sirlin.
"We believe this free-to-play update continues our mission of crafting a fighting game that removes the barrier to being a contender, while also providing excellent value for those who want additional features and to support our work."