FIFA Street 3
Street knowledge.
FIFA Street 3 is EA's latest attempt to make a football game that's a bit like those Nike adverts where Ronaldinho plays volley tennis against the crossbar and Thierry Henry smashes up his house. It's high-scoring, five-a-side football on enclosed pitches, where tricks are fast but movement is laboured, and everyone's wearing bespoke t-shirts and running around stylishly with one trouser leg rolled up. Offside doesn't exist, there are no fouls, and it's physically impossible to do a handball.
The most obvious difference between this one and the others is that EA's using caricatures rather than realistic player models, so Carlos Puyol looks like Rambo and Hakan Sukur is the Wicked Witch of the West. We had some fun giggling at the player faces on the selection screen, but this time EA is in on the joke. Unlike FIFA and PES, the comedy chins and goblin faces are part of a deliberate approach, so when Peter Crouch ambles onto the screen - a golem's head on a flailing whirlwind of bleached Twiglets - you laugh in appreciation, think well of the man for agreeing to put himself through the process, and then accept it (watch us obtain a Peter Crouch Achievement on Eurogamer TV).
Another benefit is that traditional quirks of animation - lightning movement to cover for cracks in the blending, awkward body shapes and absurd, high-jumper twirls into perfect, gyroscopic overhead kick coordination - can get away with looking odd, because the whole game does. Shimmies, feints, step-overs and Rebonas all look great in this new context, and the more exaggerated Nike-advert nonsense like defenders running up the wall to flip over an attacker's outstretched leg in a tight corner are coherent details. Performance is consistently good, although there is a bit of screen-tearing in our 360 review code.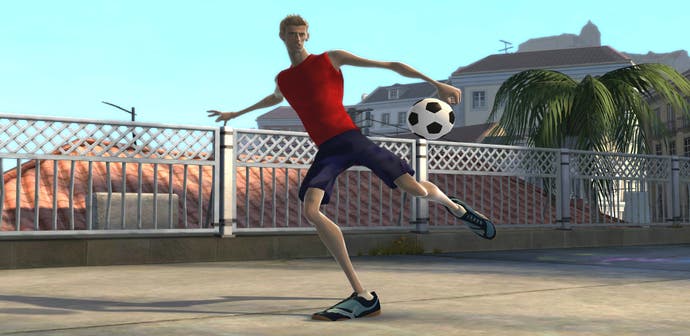 The ball is generally glued to the players' feet, which is a bit old-school, but then this is football with a basketball mentality, where dribbling and ball retention are necessarily automatic to facilitate creative self-indulgence. As you dance around the pitch you can juggle the ball indefinitely by tapping a button as it lands back on the player's foot, and perform a range of skill moves by twiddling the right analogue stick. You can also pause the play by holding the left trigger (even catching a juggled ball with the back of your neck and balancing it between your shoulder blades, or between heel and calf), feinting with the left analogue stick before distributing the ball elsewhere. For every nifty trick you pull off, points go to your "Gamebreaker" bar, although you'll need to fire off a shot to reap the benefits; if possession is turned over, your hard work starts to drain away.
Shots can be unleashed from virtually anywhere, usually by charging up the shot button in advance of receiving the ball or while in space. Stronger shots appear to have a better chance of going in, although it's hard to figure out what really governs success and your team-mates' movement is inconsistent. For the ultimate, "autogoal" effect, you need to fill that skills bar and then tug on the nearer of the two right shoulder buttons to go into the sepia-tinted Gamebreaker mode, during which your rainbow-trailing assaults on the goal are virtually unstoppable, providing they're fired in from within the opposing half and on target. Your creativity is limited by the range of moves pre-programmed into the game - this certainly isn't a trickster's workshop - but the ball is relatively free of rails. Crossing to a team-mate off the side-boards and sweeping home a scissor-kick is certainly pretty satisfying (and you can watch us score a few of those on EGTV).
The defensive side of the game is understandably less elaborate. Tackles are limited to barges and roundhouse sweeps, rather than proper slide-tackles (presumably they don't want to scuff up their designer jeans), and at their most effective when timed to counter an opponent's attempt to pass you with a trick.