FIFA 20 TOTW 24: all players included in the twenty-fourth Team of the Week from 26th February
All players in the FIFA 20 TOTW 24.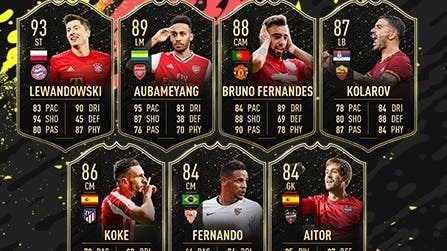 FIFA 20 TOTW 24 is upon us, with the twenty-fourth Team of the Week announcement now live and in the wild.
The traditional release time and day of the week continues, with the cards featured in the latest Team of the Week officially available in packs from Wednesday, 26th February at 6pm UK time, where they'll be around for seven days before the next TOTW comes into play.
FIFA 20 TOTW 24: all players in the twenty-fourth Team of the Week starting 26th February
The last team of the week for February has arrived and, once again, its brought us a great collection of players from around the world. This includes, as per usual, the full starting eleven team that's available, as well as seven sub and five reserves, bringing the total to a full set of 23. Lewandowski is definitely the standout player this week, but Aubameyang and Bruno Fernandes are also great picks!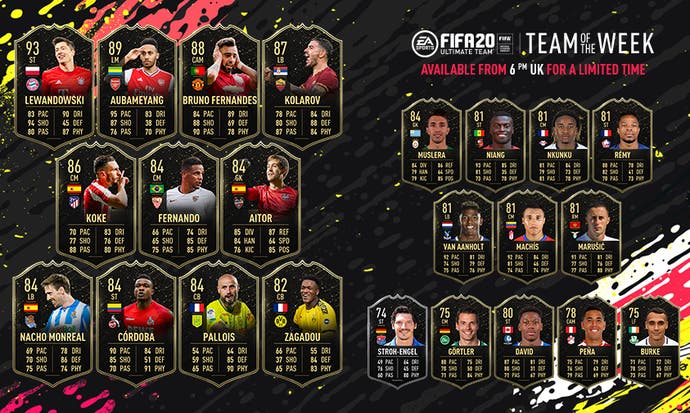 FIFA 20 TOTW 24: starting XI
Lewandowski- ST- 93 - Bayern Munich
Aubameyang- LM- 89 - Arsenal
Bruno Fernandes- CAM - 88- Manchester United
Kolarov- LB - 87 - A.S. Roma
Koke - CM- 86 - Atlético Madrid
Fernando - CM - 84 - Sevilla FC
Aitor - GK - 84 - Levante UD
Nacho Monreal - LB - 84 - Real Sociedad
Córdoba - ST - 84 - 1. FC Köln
Pallois - CB - 84 - FC Nantes
Zagadou - CB - 82 - Bourssia Dortmund
FIFA 20 TOTW 24: substitutes
Muslera - GK - 84 - Galatasaray S.K.
Niang - ST - 81 - Stade Rennais F.C.
Nkunku- CM - 81 - RB Leipzig
Rémy - ST - 81 - Lille OSC
Van Aanholt - LB - 81 - Crystal Palace F.C.
Machís - CM - 81 - Granada CF
Maruṡić- RW - 81 - S.S. Lazio
FIFA 20 TOTW 24: reserves
Stroh-Engel- ST - 74 - SpgVgg Unterhaching
Görtler - CM - 75 - FC Eintracht Bamberg
David - ST - 80 - Gent
Peňa- CAM - 78 - FC Emmen
Burke - LF - 75 - Shamrock Rovers
---
Looking for more on FIFA 20? So far we have the key details on the FUT Chemistry explained and a Chemistry styles list and affected attributes, a detailed FIFA 20 Volta mode guide and details on how to earn Volta Coins in FIFA 20 fast, a list of the top FIFA 20 potential wonderkids: the best young players and hidden gems, the full FIFA 20 player ratings and top 100 players, an in-progress FIFA 20 Ones to Watch OTW players list, and a full FIFA 20 Icons list, too. Finally, check out our SBC pages on the Teemu Pukki SBC solution, Josef Martínez SBC solution and Robert Lewandowski SBC solution, as well as pages on FIFA 20 five star skillers, plus the best FIFA 20 goalkeepers, best FIFA 20 defenders, best FIFA 20 midfielders, best FIFA 20 wingers, and best FIFA 20 strikers for an in-depth look at each position. Finally, check out the latest in-forms in this week's FIFA 20 TOTW, number 40 and our full FIFA 20 Ultimate Scream cards and players list, too.
---
With week 24, we bring Team of the Week for February 2020 to a close. Remember - you'll be able to find these featured players in packs for the next week. Once this week is over, these players will leave the packs and you'll only be get them on the transfer market, which means they'll be in short supply. The times have continued to remain at the regular slot of 6pm UK time on the same day as the announcement. Hopefully you'll find that useful Lewandowski!