FIFA 19 devs "voluntarily chose to" add pack odds disclosures
EA Sports on career mode neglect, The Journey and Jesse Lingard's hair.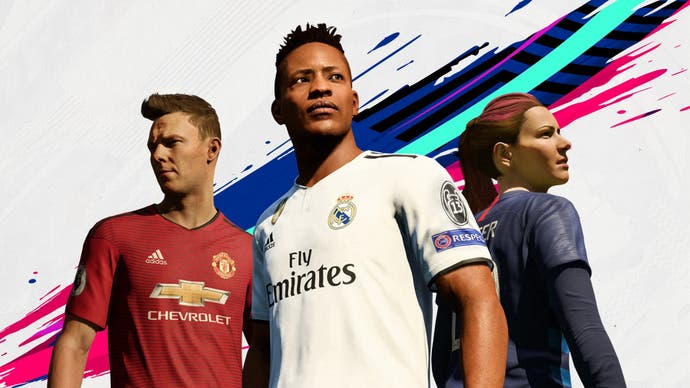 With only a month remaining until FIFA 19 is released in September, the countdown to kickoff has well and truly begun. There have been a number of leaks in recent weeks from the closed beta (this is FIFA after all), and although many greatly anticipate the newest chapter in the series, others have asked whether EA is really listening to community requests. Much of the discontent revolves around career mode, which fans feel has been neglected in recent years.
At this year's Gamescom, I sat down with associate producer Sam Rivera and creative director Matt Prior to discuss all things FIFA, and ask some of the community's burning questions. Yes, including what's happening with career mode.
---
I thought I'd start with a really important question. Jesse Lingard's been complaining about his haircut on social media, he wants it changed and said it's been a few years since it's been updated. Will you be changing Jesse's haircut?
Prior: *Laughs* I've not seen that. I can't remember how different it is in the game to what he has in the real world. Again, it's about authenticity, so I'll have words with the guys back home when we get back.
Can you change my haircut now please had the same trim on your game for 99 years 🙃🙃🙃 @EASPORTSFIFA

— Jesse Lingard (@JesseLingard) August 14, 2018
What kind of feedback have you been getting from the beta so far? Has it been positive?
Rivera: We actually got a lot of feedback and a lot of it is really good. Even before the closed beta, we had sessions with a lot of players, and they really feel there's a big difference between FIFA 18 and FIFA 19 - that's a very important part. Obviously every year there's things that we are tweaking. The main purpose of the closed beta build is to get feedback and continue fixing things - that's not the final version. So obviously there were some bugs, but most of them are things that will be resolved for the final game. So for example, the build we have here is newer, and it's removed a lot of the problems that they had in the closed beta. But that's normal, that's actually why we have the closed beta. But in general the feedback has had an influence in terms of gameplay features. For example, timed finishing - it's something that creates lots of noise because you need to adapt from FIFA 18 and FIFA 19 shooting, but we've been hearing that after you learn it it's actually really rewarding, you actually need to think and use skill to have a really good shot, so that's exactly what we wanted, and that's what we're hearing from people who are playing the closed beta, so in general it's been really good feedback.
Are there any other major changes you're going to make before releasing the full game?
Rivera: Well, all the leagues licences - there are a lot of new licences, so I can start with La Liga. We added 16 or 17 stadiums, and over 200 starheads [in-game heads of football stars]. There's also the Chinese Super League, which was just added to the game, we now have the full licence for Serie A, and we just announced the Argentinian League. Every year we're trying to add more. And that's on top of the Champion's League, that's the big one. So if you put it all together, the variety we have in licences, and also the variety of having game modes, the new kick-off mode with The Journey, FIFA Ultimate Team, and the variety of tools that we're giving you in gameplay this year that creates some very interesting games.
So there was a leak on Reddit suggesting the Women's World Cup will be licensed, can you verify this?
Rivera: At the moment we can't talk about that, but we do have Kim Hunter in The Journey...
Prior: She plays in the Women's World Cup in The Journey. That's her narrative storyline, her attempt to win the World Cup with the USA.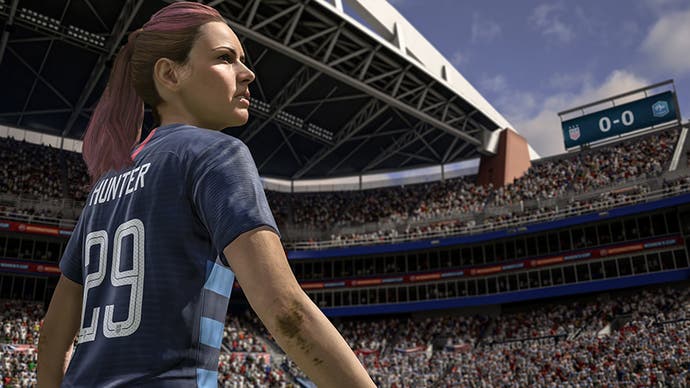 Do you feel that FIFA 19 is different enough from 18?
Rivera: Yeah, for sure, I can speak in terms of gameplay. I was just talking to the guys and they say for sure, there's a big difference as soon as you start playing, and the reason is we have a new system from the active touch system. It's a re-write of how we select animations for passing, for shooting, controlling the ball, so that has changed things, and since you start playing you feel that, and if you put that together with a 50/50 battle, the game just feels more natural, it's closer to real life in terms of movement. So yeah, we're hearing a lot that there's a big difference in terms of gameplay between FIFA 18 and FIFA 19. A lot of comments have been about passing - it's now not as simple as passing it back, you need to think about what you're doing. And we were just watching some of the professional players play against each other - one of the first games in FIFA 19, and if you're watching, it already looks different. It's one step towards a more authentic version.
Are there any more changes planned for career mode? A lot of fans have been saying they feel it's been neglected.
Prior: Obviously the big addition this year to career mode is Champions League, the Europa League and the Super Cup. So career mode is the most authentic it's ever been, and then there's changes to some of the core systems in that - for example, the broadcast elements that appear in the hub when you sign a player. There's all new versions of those, some of the systems have been tuned as well. Fundamentally the biggest change to career mode this year obviously has been the Europa League and the Super Cup.
EA has said it will now disclose pack odds for FIFA. I was wondering what the reason is for this? Does it have anything to do with government regulations on lootboxes in the Netherlands and Belgium, is it a response to player unhappiness with Star Wars Battlefront 2?
Prior: It was something we did voluntarily, and it's not something unique to FIFA, it's something we're doing for all games, just to show people what can be done with their points in the game. So it's not something we were asked to do, but something we voluntarily chose to do across all games, not just FIFA.
Rivera: It's about transparency - we're doing it not just in terms of probability in FUT, but also in terms of gameplay, we're working hard to create articles that explain all the mechanics, and we're 100 per cent transparent in what effect the attributes of the player have, how the features are working, so we are working on transparency because that's what people are asking for.
I did notice a lot more of the stats are being shown for players now.
Rivera: Exactly, and there are Pitch Notes - it's an article we're going to be releasing every two weeks that's going to have developers diving deep into the mechanics of the main game, to help people understand why we have patches, why we fix this stuff, that's why there's transparency.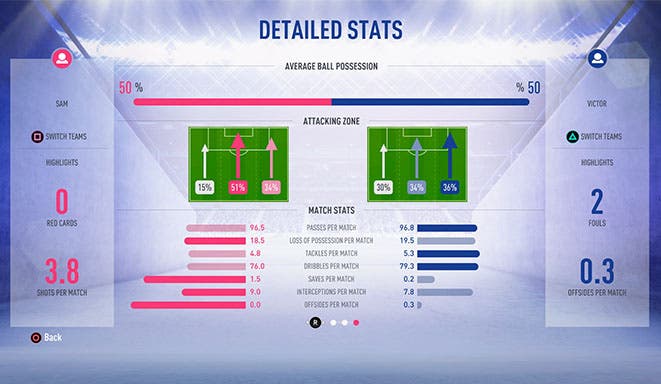 Is the addition of a woman in The Journey about making FIFA more inclusive and approachable for women?
Prior: Yeah absolutely, so we have a lot of female gamers, more than many people might anticipate, so it is about inclusivity and the women's game is a big thing, it's an ever-growing segment of football. So obviously we put women in in 2016, and we did so authentically, it wasn't just putting female representation on a male animation, so we got women in to do the motion capture, because obviously physicality is the difference, so we wanted to do it authentically, and The Journey it offers us an opportunity to really do a different kind of story.
Kim Hunter as a character and having a fully fleshed out story as a female protagonist is something that's pioneering in sports games, it's never been done before, so it's very important to us and through that narrative we're able to highlight some of the differences, because there are obviously a lot of differences between a woman trying to make it in the game and a man, and we want to showcase that and challenge that basis. And irrespective of whether you're male or female, I think it's very interesting story in of itself, and I fully expect everyone to play it, I don't think just women will play that just because of that female character, I think it's one of the high points of the whole journey. So it's not just designed for women to play, I think everyone will enjoy it and all the stories.
On the subject of stories, how does changing between perspectives work?
Prior: So that's one of the interesting things we wanted to do. Obviously in year one we kind of did a more linear narrative about a single character, then the second year we had but then you could jump into Danny for a little bit. So with each year we've tried to diversify and offer different ways to play and encounter new perspectives, and this year we've taken that to the max that we've now got three separate stories but that intertwine, and you can play them however you want.
We have what we call a "golden path" where we will recommend to jump out of the story and into another story, as that's what we feel is the optimum way to play. However if you don't want to do that that's entirely up to you, so you could go in and play Kim Hunter from start to finish, or Alex start to finish, or Danny start to finish, or pop in and out of your own free will. And that was an important thing for us because we wanted to give players the option to play the way they wanted to. Because often the stories intersect, we will see a scene multiple times, but depending on whose story you're in, you'll see it from a different perspective. So say there's a scene in a room and Alex gets a call, if you're playing Alex's timeline you'll hear the conversation, if you're in Kim, you'll see Alex get the call in the background. So that's an interesting cinematic and narrative element in terms of combining those stories. I think it's an interesting way to tell a story, something we haven't done before.
Some people were saying they found the current 40-game requirement for weekend league to be too demanding. Division Rivals will make it easier to qualify and carry your qualification over, but is the weekend league going to be the same length and the same number of games?
Prior: I think they're tuning that right now, I'm not sure exactly if they've decided on the final amount. I know there was a lot of community feedback on that, and Rivals was directly driven by that feedback that it felt like a bit of a grind to get there. So I know they're still tuning, but I'm not sure of the exact amount of games you'll need to play in weekend league. I know they're in flux and tuning as they do up until the launch.
There's been a lot of quality of life changes to kick off mode this year. For instance, house rules, the inclusion of finals you can play at will. I was wondering why these haven't come in earlier FIFAs?
Prior: Time and resources are not infinite, we have to decide what we want to do in any one given year, and what we try to do is build a suite of features that resonates across the game as a whole, as FIFA is unique in that different people play different ways. So you could introduce a feature in career mode and a lot of people would never engage with that as they don't play career mode. So it's something we've been thinking about for a while, the reason we did it now is we want to open the game up to a more casual demographic. We see a lot of people play kick off mode and kick off alone, and the engagement level of those can generally become unattentive, because previously those games would just happen and then disappear into the ether. All the things we've done in kick off are geared towards engaging you with casuals, and giving more meat on the bone with kick off. By virtue of stats tracking in every game, matches always mean something.
While authenticity is, and always will be, key for us - I think it's something to remember that we are a game, people play games to have fun, so often it's a different way of playing that we haven't done for a while. We did have similar modes in years past, and I think it's just a good time to open it up. It's something we've always said is on the cards, we've had similar things years and years ago, so we felt like now is the right time to do that. All the feedback we've had from this is people are loving it.