FIFA 13 Wii U lets you score using the GamePad touch-screen
EA unveils how the tablet controller fits in.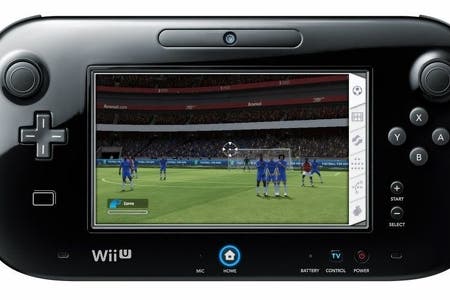 EA Sports has unveiled FIFA 13 for Wii U and described exactly how Nintendo's touch-screen tablet controller will be implemented in the game.
Shaking the GamePad when getting ready to score will activate Touch Screen Shooting, ONM reported, allowing for pixel-perfect accuracy in your shots.
The controller can be used as a second display during set pieces and penalities, allowing you to examine the environment from all angles when held up to the main screen.
More substantially, the GamePad will allow five players to team up in FIFA 13's co-op mode. One player will manage the team using the Wii U GamePad, while four others take charge of the main on-screen action.
The new Team Management Control option meanwhile offers a radar with which players can launch attacking or defensive runs, with touchscreen controls available for changing tactics, formations and substitutions.
Then there's Manage Match mode, which lets you give half-time pep talks and generally manage the action from the side-lines.
You can also use the GamePad to instant message Wii U friends and invite them into your game.
Screenshots of the Wii U version lie below, demonstrating roughly comparable graphics to the game's PlayStation 3 and Xbox 360 brethren.