FIFA 12
Making an impact.
For fans of the beautiful game, the purchase of a new FIFA has become as much a seasonal ritual as the purchase of their team's new football shirt. It's safe to assume both products will be well-tailored and relevant for a whole 12 months, but when there's talk of one of them offering "revolution not evolution" there's a hollow ring of marketing speak.
In that stale edict there's a spark of truth for FIFA, however, as well as an admission that having conquered its closest rival the series has perhaps become a little complacent. "When we're saying this year it's revolution not evolution, that goes completely the other way to what we've done," says EA Sports' David Rutter, the man who's been at the helm of the series since it worked its way from critical punchbag to critical darling.
"I think that the reason we can take some bolder steps in pushing the genre forward is the fact that in previous years we've built a foundation of quality that's still there, but now we can go, okay, we've got the confidence that we can rip it apart."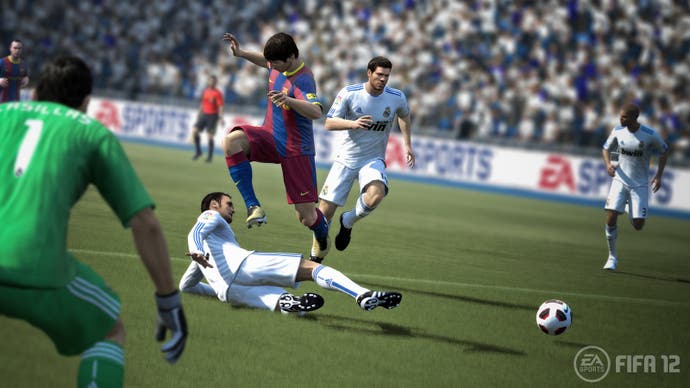 That foundation of quality can't be faulted, and while progress might have been slow, it's certainly been moving in the right direction since FIFA made the leap to the current generation. FIFA 10 conclusively crowned the series, and while FIFA 11 saw it lose a little momentum, it still emerged as king of the football sims. If 11 saw the ascendancy slow, then FIFA 12's bold steps come at just the right time.
It's a game keen to impress that this is a new and fresh FIFA from the very start, with the well-worn front-end of late being kicked into touch and replaced by a series of new menus. Simple and slick blades replace the scramble of before, and there's an increased resemblance to Sky Sports in the graphics that preface each game.
Once the match starts it's a profoundly different experience – and for anyone who's piled hours into FIFAs 10 or 11, initially disconcerting. Its self-dubbed "trinity of gameplay innovations" completely opens up the play and stamps a very different tempo on the game, and early impressions suggest that it's working for the better.
Foremost of the new features is the Impact Engine, a physics engine that replaces the old animation-based system of FIFA's past. Its effect on the game is dramatic: players now jostle and collide with real conviction, an aggressive tackle likely to send someone flying while a stern body-check will likely knock a player on their back.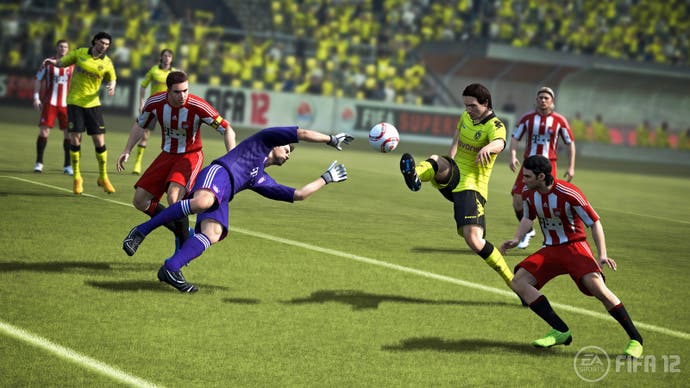 It adds another layer of realism to what was already the most authentic take on the sport. FIFA 11's challenges would often see players clipping through each other, a persistent limitation of earlier games that shattered the suspension of disbelief. Now there's a variety and verity to play that, like the best innovations, make it hard to go back to how it was before.
It's a difference that goes some way to warranting that claim of revolution. "The Player Impact System is the biggest change that we've made to FIFA, technologically, since the transfer of FIFA to this generation of consoles," says Rutter. "We've been working on it for over two years, which is a bit of a luxury for us, but we realised quite a while ago that in order to take that stuff to the next level we'd have to do it properly."
"You see the work that the other game teams around the world are doing with their engines," he continues, without naming names (although he does admit to not enjoying Pro Evolution Soccer's new direction with last year's outing).