FIFA 11
Pre-season warm-up.
As the drone of the vuvuzela fades from our consciousness and the pain of another abject English capitulation loosens its grip around our throttled pride, we come once again to that time of year where the FIFA bandwagon begins accelerating towards its annual release.
But with a potentially revitalised PES gunning to restore its battered reputation, can FIFA 11 maintain its dominance over the world of virtual football? I caught up with Dave Rutter, lead producer on EA's contender for the crown, to find out.
Last month we touched on FIFA 11's new Personality+ feature in a preview. It's an area Rutter believes will make the game fittingly different from its predecessor.
"This is a very big deal for us and we want to push this really hard," he says. "We've done this in a few ways. Firstly, we think the way the players look and move is a lot more like they are in real life. Each player's attributes matter more this year as the game is entirely driven by them. Players all have unique traits, whether they're good at long shots, have a great work rate or dribble well."
Keen to prove his claims are more than just words Rutter urges me to try out the latest build, which is 75 per cent complete. The game's increased robustness is instantly striking. Coupled with last year's 360 degree dribbling, FIFA 11's new jostling and shielding mechanics make for a far more physical experience.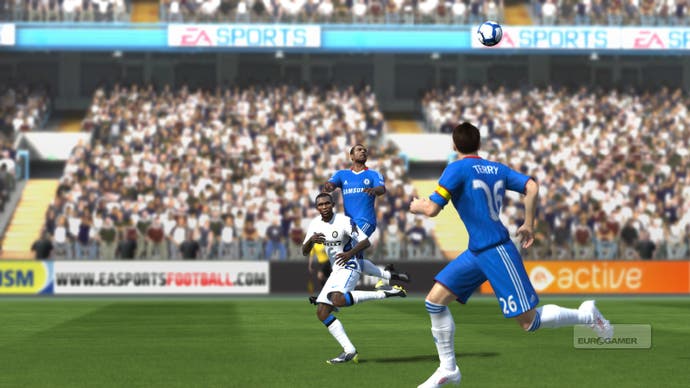 Players dart into space with greater intelligence, turning their backs to onrushing opponents to protect the ball. Regaining possession also feels more believable than in FIFA 10 thanks to the increased ability to harry the opposition from every conceivable angle.
Much has been made of FIFA 11's eradication of ping pong passing; the ability to play one-touch passes regardless of player skill. While still in need of balancing, FIFA 11's revised passing system looks as though it could make for a more considered and realistic experience.
Unless you're controlling an Alonso or Xavi, you must first bring the ball under control and steady your player if you're to stand any chance of pulling off an accurate pass. While this does inject extra realism, it also slows the gameplay slightly.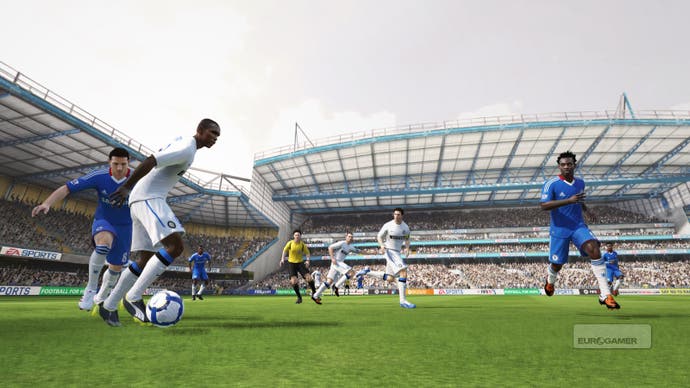 Another new feature that makes this year's version feel different from FIFA 10 is the revised AI system. Players move off the ball with greater intelligence, making it harder to pull teams out of shape and exploit space.
This in turn makes the midfield feel more like a battleground than simply a conduit for launching attacks. Time on the ball is also more limited, forcing regular use of the new shielding techniques.
The revised AI also appears to make players more like their real life counterparts. Veron conjures passes in areas other players would find only opposition shins, creating pockets of space with canny one-twos before sliding killer through balls into the danger zone.