Winning Eleven 6: Final Evolution
First Impressions - KCET releases a Pro Evo 2 follow-up for Japan after just over a month...
Earlier this month, KCET shipped the latest release in the long running Winning Eleven series, dubbed "Final Evolution" - albeit about as final as "Final Fantasy". Although this won't mean much to those who graze exclusively in the fields of PAL, anybody with a passing interest in footy and a dodgy bit of silicon lodged in their PS2 will certainly know what we're talking about.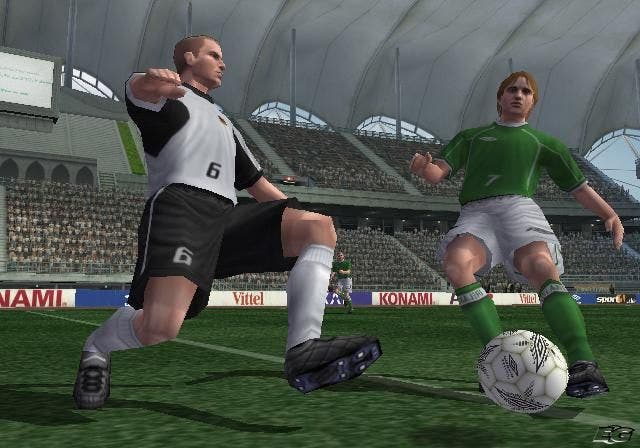 In off the Oranges
Writing about KCET's marginal releases of WE6 is tough, because defining 'what's new' is often a case of playing the 'new' game for endless hours and trying to discern why it feels different. Changes are almost always tweaks rather than new features, and often - as with the transition from Jap J-League WE6 to Pro Evolution Soccer 2 - the most significant adjustment is team data.
And so it is with Final Evolution to some extent. European gamers will certainly appreciate the updated stats, which bring the likes of England, France, Germany and co. up to date after their World Cup performances. Looking at it selfishly, our beloved England now boasts a vastly quickened Michael Owen and a lumbering, virtually useless Heskey - and Beckham no longer sports a rather embarrassing Mohican. However superficial it may seem, KCET's dedication to the statistic does change the balance of the game for the better. And simulation obsessives will appreciate it, even if all the Dutch players are still labelled Oranges###.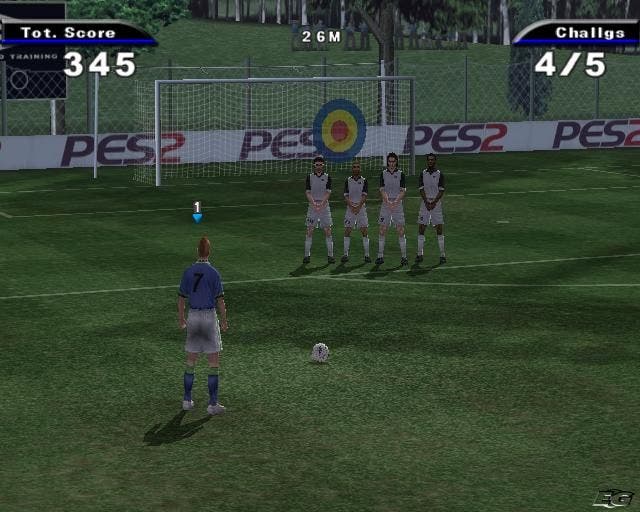 I just wanna feel...
Furthermore, it's clear from the moment the ball is first struck that KCET has been working overtime to improve the general 'feel' of the game. One of our biggest criticisms of Pro Evo 2 was the way the ball often got lost bouncing off shins in a midfield melee, and the good news is that the situation has been improved, once again at the expense of frame rate but nevertheless an improvement. Passing feels a lot crisper, and through-balls are seemingly easier to connect with, partly thanks to the relaxed pace, shedding the lottery dynamic players previously endured - hopefully once and for all.
Use of the R2 button seems to have been refined too. Whereas it was often key to success in previous Winning Elevens (as evidenced by Kristan's inability to score against yours truly using the joypad with the working R2 button), shimmies, stopovers and Cruyf turns can now be performed using the D pad or analogue stick exclusively, although R2 is still a useful tool if you need to unlock a bit of pace.
All of which opens the game up a lot more. It feels uncomfortably hard against the CPU compared to previous iterations, but two-player bouts between similarly-skilled players are no longer tedious, drawn out 0-0s. They're even punctuated occasionally by quality crosses and headed goals, which seem easier to score. Goals flood the net in no greater frequency of course, but the process of building up to them is a lot more fun.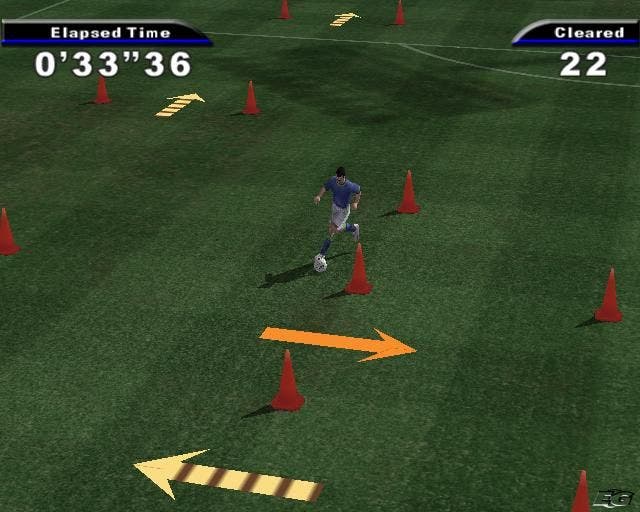 Resolute
At a distance it's hard to pick any of the various KCET footy games from one another, but Final Evo is certainly a nicer game to look at close up. Player animations are consistent with Pro Evo 2, but close-ups during foul sentencing and other areas appear to be of a much higher resolution. We're also quite taken with the concentric mowing circles on the pitch and the new camera angles - which allow you to conduct the action from a sweeping, sideline-mounted FIFA-esque viewpoint. And technically speaking, the shortened load times for free kicks, corners and so on are a godsend. We've hated waiting around to miss a free kick ever since we could.
Of course there are still faults, and we won't pretend we've figured out all of KCET's recent work, but on the whole this once again feels like an improvement. From the PAL gamer's perspective though it's quite a depressing release - superior to Pro Evo 2 in many respects and available just over a month later. What's even more alarming is the presence of online support, although we haven't managed to get this working ourselves - apparently it updates team data.
Cube Club
And with Final Evolution due out on the Japanese GameCube in January, the shroud of gloom deepens over Europe. We'll probably never see this on the Cube, certainly not as long as Sony has anything to do with it. Perhaps FIFA's recent commercial success over Pro Evo will see Konami trying to squeeze in ports in future - instead of subscribing to Sony's exclusivity contracts - but for the time being we're stuck where we are.
All the same, if you have an import Cube or a PS2 that can handle Japanese games, aside from a bit of a language barrier, Winning Eleven 6: Final Evolution is something well worth pursuing.
Pro Evolution Soccer 2 screenshots (PS2)