Top Spin
Game, Set and Match Microsoft? Rupert (of all people) takes a look.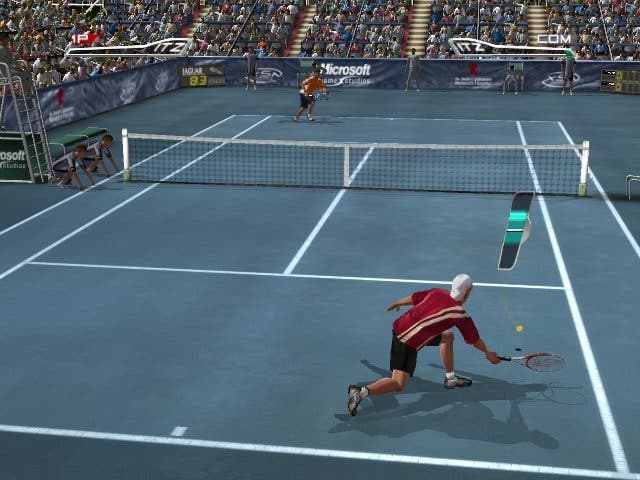 Anyone for tennis? EG was recently one of a few select publications chosen to see Power and Magic's new Xbox-exclusive tennis game in Paris. None of the resident hacks were quite sure what to expect. A tennis game? In France? It certainly didn't sound promising. An expensive meal and a steady stream of Microsoft-funded alcohol seemed to confirm our fears, leaving us almost too hungover to play the game itself. However, we battled through and were pleasantly surprised to see a great looking, well-implemented game of tennis.
The first thing that strikes you about Top Spin is how great it looks. The arenas (over 50 in all), ranging from Centre Court at Wimbledon to a disused street court and everything in-between, are all beautifully crafted. Thanks to the Xbox's powerful graphics hardware, the days of cardboard cut-out spectators and chunky players are all but gone – this really did look almost as good as the real thing.
Once we'd recovered our composure, we discovered a limited range of camera angles, but quickly settled on one that suited us. Gamers can opt to control the game up-close, hovering just up and behind the player's shoulder, and it's also possible to zoom out and get more of an overview of the court.
The courting spell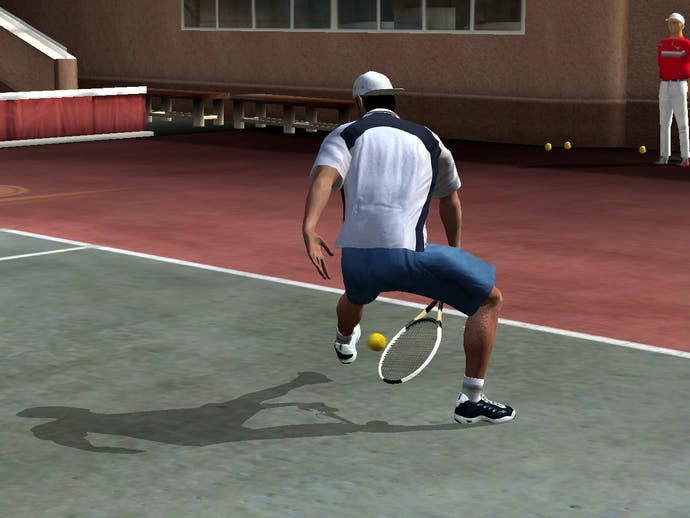 The game itself is simple to pick up. You use the D-pad or analogue stick to move your player, and the four right-side buttons to perform different types of ground shots and apply topspin and backspin. To a novice, all these shots (other than lob) seem pretty much the same. In fact, it's hard not to return most shots, unless you start using the trickier powerful shots. Nicknamed "the howitzer" by a nearby BBC journalist (and the "mentalist" shot by us), this difficult-to-perform super-shot allows you to put some frightening power behind the ball, and your opponent will find it hard to return. However, we still hadn't mastered it by the time we had to leave for the airport. Hic.
Given the game is tennis, the only other thing you need to get to grips with is serving. This too is a doddle to begin with - you will never fault your serve if you stick to the middle of the power bar, but again there is also a trickier power-serve to master.
Once you get your heads round these techniques, there doesn't seem to be that much more you can do (although apparently there were shots we didn't see performed, such as the through-the-legs return seen to the left). Then again there are only so many things you can do with tennis.
Live Tennis?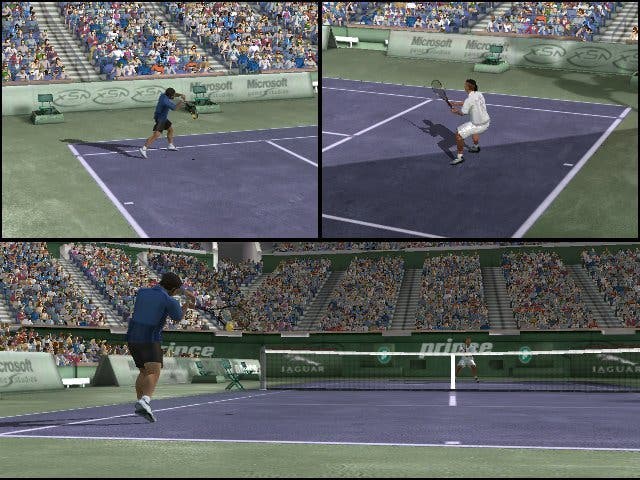 As you'd expect, there are various single-player modes in which to compete - one-off exhibition matches, championship modes and so on - the usual scenario. You can also coach your player and build a career, which is obviously something we'll consider in the review later in the year, rather than perched atop a bar stool with the buzz of cocktail shakers in our ear. Ever impatient though, we had to go beyond the exhibition.
The most exciting thing for us was the multiplayer aspect. Supporting up to four players on one Xbox, playing against friends (and in this case enemies) is a good laugh - enhanced by the taunt feature. By hitting the white and black buttons in-between points, you can talk smack or protest that your opponent won the point through luck as opposed to skill. We're hoping for some sort of Monkey Island-style verbal jousting in the finished version, but that might be overdoing it. Still, it's great fun and there are plenty of different animations, but you do get the feeling you've seen them all after half an hour, particularly if you taunt more often than not [and let's face it, Rupert does -Ed]. It doesn't quite compare to real-life smack-talk either, but then that's why we have the Xbox Communicator!
Speaking of which, you can play singles or doubles via Xbox Live, although sadly you can't play doubles with a partner in a different location. Combined with the new XSN Sports system (as-yet unseen) there will be all kinds of rankings and tournaments which should prove to be hugely popular, and should add plenty to a game that faces some heavyweight opposition offline - not least of all from the Virtua Tennis series.
Come on Tim!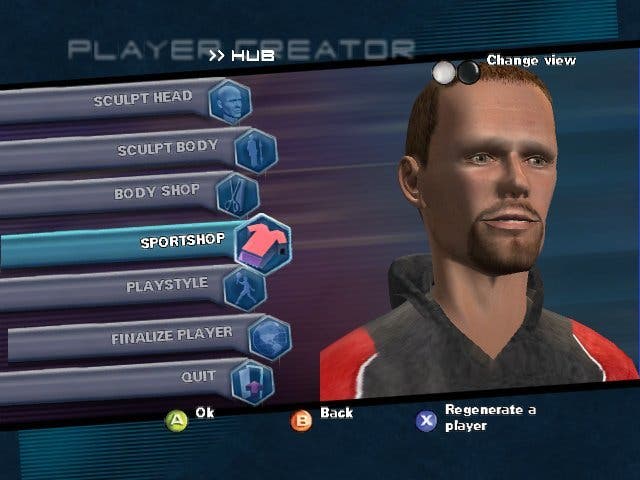 Due to the complex licensing arrangements surrounding tennis players, Top Spin features a bunch of licensed players such as Lleyton Hewitt, Pete Sampras and Anna Kournikova (who takes up more space on the press disc than anyone else...), but there is no sign of the people's champion, Tim Henman. Don't worry though, the game features an advanced player editing system that allows you to create your own players and style them however you like. And once you're done exploring the extremes of height and girth, you might consider creating some of the professionals not included in the game - or even modelling one on yourself and then taking him (or her) online.
Despite being a few months off, the game is already looking slick and there are no noticeable omissions. There are a couple of lingering issues, like the way the crowd cheers a point and then cuts out abruptly as the next point begins, but PAM is unlikely to leave that unchecked if the attention to detail elsewhere is anything to go by. And of course if it even half measures up to the existing competition, the addition of Xbox Live is sure to give it a long shelf life whatever the niggles, as proven by games like Midtown Madness 3.
Top Spin should be released over here in November, and although most of you will have forgotten all about Tim Henman, strawberries with cream and possibly even Tennis itself by then, on the evidence so far it doesn't look like Top Spin will need the help of Wimbledon or any other tennis tournament to drum up your enthusiasm.