F.E.A.R. The Future
Hands-on with the 360 port and PC expansion.
There may be shades of Championship Manager about the split between Monolith and Vivendi over F.E.A.R., but the lack of rancour means Vivendi's having no trouble colouring in the F.E.A.R. shaped holes on its 2006 release schedule.
Quite how a true F.E.A.R. sequel will work without Monolith's slow-motion guiding hand is something best left to Vivendi's bloody manifestations, but certainly this year fans of the original game will notice no let-up - with Day 1 Studios set to turn out an Xbox 360 adaptation of the PC original featuring new content, and TimeGate busily putting the finishing touches on PC expansion pack Extraction Point, which picks up where the first game left off. Both are due out this autumn.
Naturally, neither developer is moving too far away from what made F.E.A.R. work - a storyline tainted by the paranormal, and a succession of increasingly bloody, detailed first-person gun battles pitting slow-motion sharpshooting against startlingly adaptive enemies.
Then again you certainly wouldn't expect to see a change from the Xbox 360 port. What you might worry about is how even the mighty Xbox 360 will cope with the game's lofty graphical demands - it really was the prima donna of last year's first-person crop, downing GPU cycles like Kristal from the bottle. And there might be cause for concern if you merely glanced at the 360 version at this year's E3, because while it clearly resembles the PC version it can't claim to take maximum advantage of all its assets. Not yet anyway - but Vivendi was keen to let anybody in earshot know that the full game will use all the PC's content at the highest quality graphical settings. So there.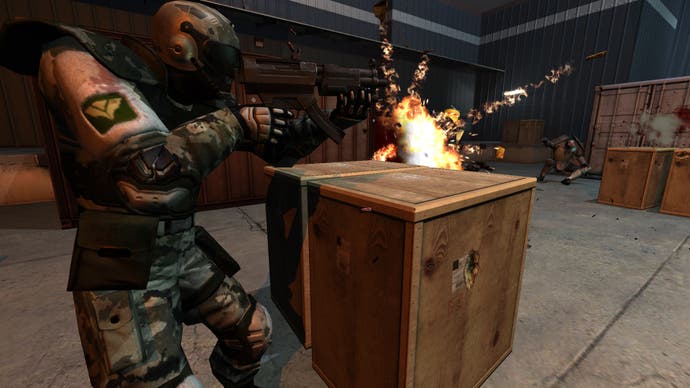 Setting that aside, the 360 demo gave us an idea of what Vivendi was talking about when it mentioned new single-player content in its original announcement. Apart from a myriad of tweaks (word is that regeneration of the slow-motion meter is quicker, and analogue control felt almost-right with functions sensibly dotted around the 360's excellent pad), there's a new "Instant Action" mode, absent from the PC game, where the idea is to go through a level taking on huge numbers of enemies with as much speed, efficiency and lethality as possible. The level we played was split into identikit sections, with a yard full of grunts followed by a corridor of mechanised walker [the best kind of corridor - John].
It's not just for kicks though - the better you do, the better your end-of-level or post-death stats, which you're given on an analysis screen afterward. Not only that, but the game computes a final score for you and uploads it to Xbox Live leaderboards, which ought to encourage a bit of competition. Vivendi's also talked about "brand new multiplayer content created to fully utilise Xbox Live" so it's a fair bet Live will be employed for more than boards, too - although whether F.E.A.R. 360 will make use of the content recently added to the PC version, including new Control game-modes, is something Vivendi hasn't got anything to say about right now. More to come, presumably.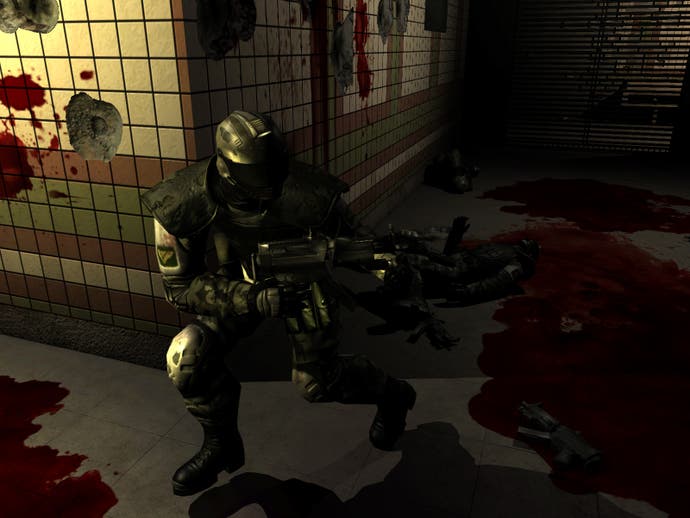 Quite what Extraction Point will do with the PC multiplayer is another question, but for now the focus is firmly on new single-player content - much as you'd expect from an expansion, really. And, indeed, the level shown off at E3 was very much what you'd expect from a F.E.A.R. expansion penned by outsiders. No disrespect to TimeGate, whose level played out perfectly acceptably, but don't expect much more than much more of the same. Indeed - and it's impossible to go much further without spoiling what happened at the end of F.E.A.R., so duck out now etc. - you shouldn't even expect to escape the explosion that wrapped things up in the first place.
As you'll recall, the first game concluded in horror-cliffhanger style, with the faceless hero scrambling out of the way of a game-ending explosion that ripped the entire world to shreds, and making off in a chopper - only for little Alma to rear her Sadako-inspired head in time for the screen to rock to black in frightening fashion. We pick up seconds later, as you emerge from the wreckage of the downed chopper and find yourself imperilled by a similar range of enemies, environments and slow-motion all-the-above-clichés.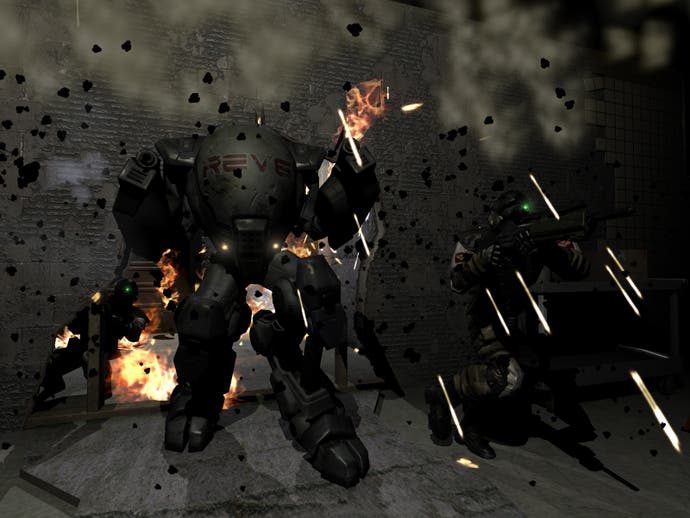 What follows is distinctly F.E.A.R. - dark but detailed environments, the odd turn-the-valve puzzle, enemies fighting you in enclosed spaces, and the odd radio-fuzzing manifestation to mess with your head. Think doors stretching away into depths of blurry gore and other jumpy behaviour.
The standout bit came a bit further on, as we made our way into a room apparently vacated by decorators, disinclined to take their paint pots and scaffold, and rubble-strewn by the effects of the last game's conclusion. About then, you get hold of a new weapon - a fearsome mini-gun - and come into contact with a range of unhelpfully transparent, fast-moving enemies who like nothing better than to stalk you, staining the air with their presence only intermittently, leaving you to spread lead instinctively like something out of Predator. This quickly reduces the room to tatters, and it certainly felt edgy and awkward. It'll be interesting to see how else TimeGate varies its approach - the E3 demo was more of the same, certainly, but we still left it reluctantly, suggesting that we still have a bit of F.E.A.R. in our hearts. VOOO-oomp.
F.E.A.R. on Xbox 360 and F.E.A.R. Extraction Point for PC are both due out this autumn.