Far Cry 3, Ghost Recon Online and ShootMania playable at Rezzed
Ubisoft puts support behind next month's PC and indie games show.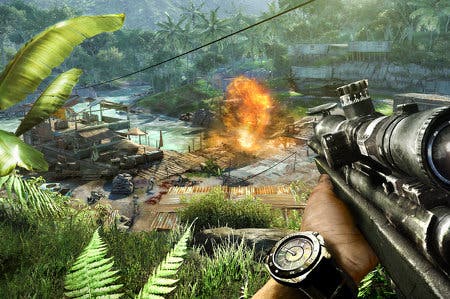 PC versions of Far Cry 3, Ghost Recon Online and Shootmania will all be playable at Rezzed: The PC and Indie Games Show, the organisers have announced. (We're the organisers, incidentally - just trying to sound flash. La di dah.)
All three titles are published by Ubisoft and will be arriving at Rezzed off the back of trade showings at E3. Far Cry 3 put on a fascinating display, perhaps the highlight of which was a press conference demo that was borderline fever dream, so if you like your shooters to have a bit more going on upstairs (even if not all their dogs are barking), this might be one for you.
Ghost Recon Online is a third-person multiplayer action game take on the famous Tom Clancy series, while ShootMania is TrackMania studio Nadeo's fast-paced contribution to the competitive arena-style first-person shooter scene. Based on its E3 showing it's more Rocket Arena than Call of Duty, and that can't be a bad thing.
The Ubisoft titles join a raft of playable games already announced for the Rezzed show floor, including Borderlands 2 (playable for the first time in the UK), Aliens: Colonial Marines, Prison Architect and many others. XCOM: Enemy Unknown will also be present for attendees to check out in a developer-led walkthrough.
Expect more game reveals soon - including the contents of our eclectic Leftfield Collection, where we've rounded up a bunch of exciting and esoteric indie titles you probably haven't heard about. If you've been to the Eurogamer Expo, think of the Indie Arcade except bigger and weirder.
We've also been announcing developer sessions. We've got Splash Damage boss Paul Wedgwood, Creative Assembly on the past and future of Total War, Stainless Games on Kickstarter and Carmageddon Reincarnation, and Introversion on Prison Architect, with more still to be revealed.
Rezzed takes place at the Brighton Centre on sunny Brighton seafront on Friday 6th and Saturday 7th July. Tickets are £12 for one day or £20 for both and are available, along with more information on location, travel, etc, at www.rezzed.com.