Fan-favourites Hunk and Tofu are returning for the Resident Evil 2 remake
You can breathe a soy of relief.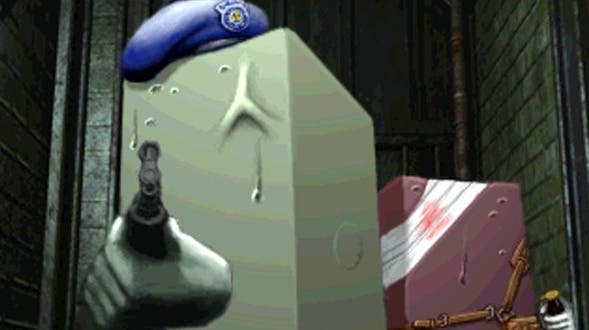 Fans of faintly absurd bonus characters can breathe a sigh of relief today; Capcom has confirmed that both Hunk and Tofu will be returning for the Resident Evil 2 remake on PlayStation 4, Xbox One, and PC.
For the uninitiated, Hunk and Tofu were bonus characters present in horror classic Resident Evil 2 - appearing in their own mini-missions, and unlocked if various criteria were met. Hunk, a mysterious gas-mask-wearing Umbrella operative, featured in the 4th Survivor mini-mission, and was unlocked by completing the Leon and Claire scenarios with an A rank.
Tofu, a knife-wielding lump of coagulated soy milk, appeared in the unlockable Tofu Survivor mode - a tough reworking of Hunk's mission, accessed by completing any combination of scenarios six times with an A rank in under two and a half hours.
Resident Evil 2 producer and senior manager Yoshiaki Hirabayashi confirmed during E3 that both modes - and characters - will be included in the remake on release (thanks, Trusted Reviews). And while not the biggest of revelations, it's does offer reassurances that Capcom isn't throwing out some of the series' weirder elements for the sake of modernisation.
Capcom's 
Resident Evil 2 remake is out on PS4, Xbox One, and PC on January 25th, 2019, and is already looking pretty astonishing - as you can see in Eurogamer's footage (above) from E3.