Fallout: New Vegas dev hopes digital distribution "stabs used game market in the heart"
Obsidian hopes to digitally distribute its own games.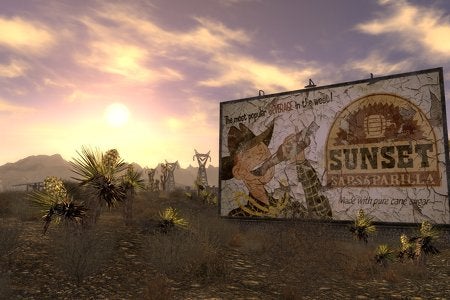 Fallout: New Vegas developer Chris Avellone hopes digital distribution "stabs the used game market in the heart".
"Of course, one of the greatest things about digital distribution is what it does to reduce the used game market," Avellone told Eurogamer sister site IndustryGamers.
"I hope digital distribution stabs the used game market in the heart."
The Obsidian chief creative officer said digital distribution - seen by many publishers as a way to combat the second-hand game market - also benefits developers and the development process.
"One of the things I enjoyed with Fallout: New Vegas was that digital distribution of the DLC made things more flexible in terms of getting the content done," he said. "You didn't have to worry about production times for discs, and so you could take an extra week if you needed that to get things right."
Obsidian, which is making a South Park role-playing game for publisher THQ, hopes to one day digitally distribute its own games.
"Our eventual hope is that we can stockpile enough resources to release our own titles digitally," Avellone explained.
"Smaller games can be very satisfying projects to work on, and it would be great to do that. But it's going to take time for us to get there; we want to make sure we do it right."
Pre-owned game sales is a hot topic of debate among gamers, game makers and game publishers.
Developers and publishers complain that they do not receive any of the money made by the sale of a second-hand game. Shops argue that trading in games helps gamers buy new releases - and encourages them to spend more.
Last month Gears of War 3 developer Epic said DLC not only brings in more money, it also helps "actively fight" pre-owned sales by "keeping the disc in the tray".
"In a used game culture that you have to actively fight against, I think DLC is one of the ways that you do that," Epic Games' director of production Rod Fergusson said.
French developer Quantic Dream claimed in September that it lost one million customers and between €5 and €10 million to second-hand sales of PlayStation 3 exclusive Heavy Rain.