Fallout 76's first major patch is a whopping 47GB on console
Over encumbered.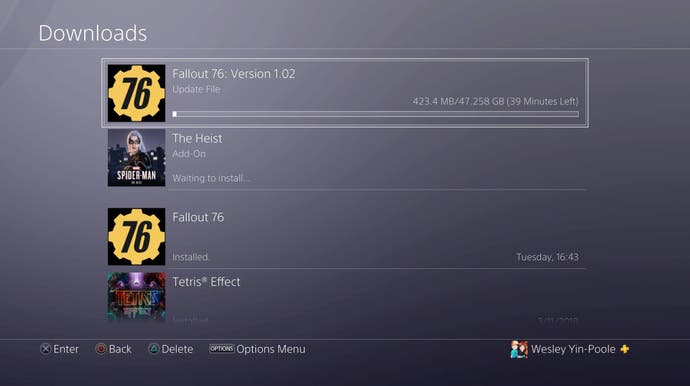 Fallout 76's first major patch is out now on PlayStation 4, and Bethesda wasn't kidding when it warned it would be big.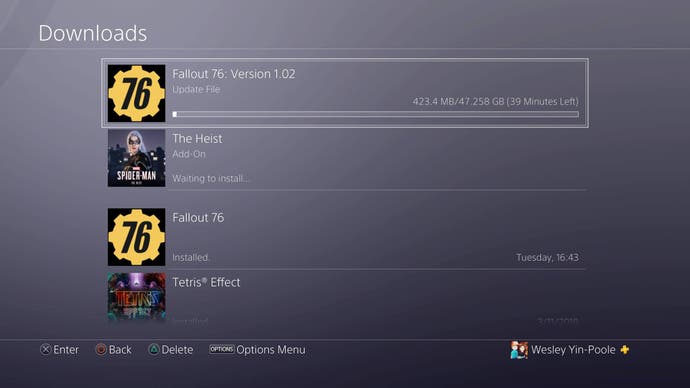 The patch weighs in at a whopping 47.258GB and brings Fallout 76 up to version 1.02. Prior to the patch going live, Fallout 76 on PS4 took up 53.04GB. Post-patch, Fallout 76 takes up 53.23GB, so the update replaces much of the pre-existing file.
(Reports indicate the patch is similar in size on Xbox One, but a lot smaller on PC, where it comes in at 15GB.)
According to the patch notes, the Bureau of Tourism quest bug, which I'd run into, has been fixed, and there are tweaks to performance and hitching issues during gameplay. There are also changes to PvP:
Pacifist Mode: Players with Pacifist Mode enabled who engage in PvP by contesting a Workshop owned by another player will now correctly deal full damage to that player as long as they remain hostile.
Respawn: Choosing the Respawn option after dying during PvP combat will now correctly clear any active hostile status toward other players.
Seek Revenge: Cap rewards will now display correctly when choosing the Seek Revenge respawn option after being killed by another player.
Seek Revenge: When targeted by another player who is seeking revenge, the reward amount will now display the correct number of Caps that can be earned by killing that player.
"This update will be large compared to what we expect for patches going forward," Bethesda said.
"Regular updates will always vary in size, but future updates should be much smaller in comparison.
"Our plan is to update the game on a regular basis with patch notes that detail what we are addressing with each update," Bethesda said.