Fallout 76 to get faction-based PvP system post-launch, among other things
New Vaults! Character respec! More!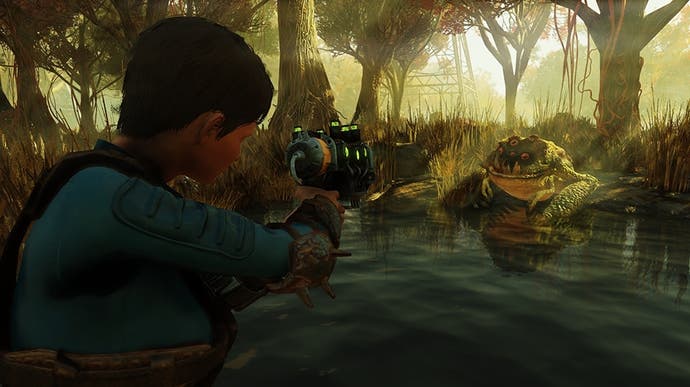 Bethesda has outlined some of the features it's working on that are set to hit Fallout 76 post-launch.
In a post on Bethesda.net, the company said Fallout 76 is getting C.A.M.P. building improvements, new quests and events, new Vaults opening, character respecing and a faction-based PvP system.
A lot of this stuff will be welcomed by those who played the Fallout 76 beta. Fallout 76's C.A.M.P. building, which is essentially the same system from Fallout 4 but with the ability to move it around the map, could certainly do with a tinker, particularly for those who like spending a good deal of time with it creating elaborate home bases. And while the Fallout 76 beta had a good deal of quests and events, most weren't memorable. So more - and better - quests will certainly be a good thing.
I find the idea of a faction-based PvP system most interesting, though. Fallout 76's PvP - in the recent beta at least - was a rather drab, meaningless affair. To trigger PvP, you have to shoot someone first, which does negligent damage. The person you shoot, though, can then do normally-scaled damage to you. Beyond the "fun" of PvP, there isn't much reason to get stuck in, apart from the potential to score a few caps if you kill someone. Die from PvP and you only lose a few bits of junk and respawn nearby.
Elsewhere, it's good to hear character respecing is coming post-launch. Bethesda marketing chief Pete Hines has signalled on Twitter that while you can carry over your beta progress and characters to the game at launch, you can't respec. Also of note: achievements and trophies don't work retroactively, so you'll have to earn them all over again, if you're bothered by such things.
you can continue with any existing characters or start a new character. the game does not allow for SPECIAL respec.

— Pete Hines (@DCDeacon) November 12, 2018
achievements and trophies won't work retroactively. so if your character did something that unlocks an achievement, you'd have to do it again or create another character and do it if you want that achievement.

— Pete Hines (@DCDeacon) November 12, 2018
Fallout 76 goes live in the UK at midnight, tonight on PC, PlayStation 4 and Xbox One.