Fallout 4 14.5 inch power armour figurine costs £279
Includes 35 points of articulation and removable outer armour.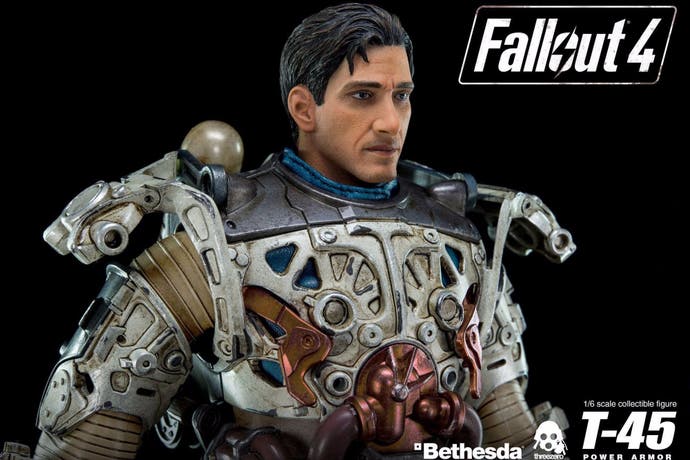 Japanese toymaker ThreeZero is producing a Fallout 4 figurine so extravagantly detailed that it costs nearly $400.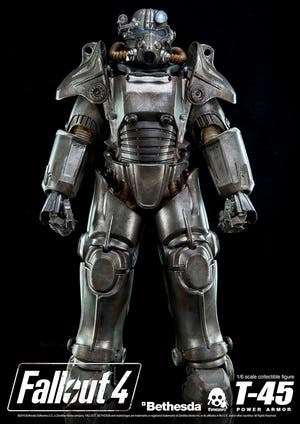 This T-45 Power Armor Collectible Figure is built to be 1/6th the scale of the real thing and comes in two variants: a ThreeZeroStore Exclusive Version with a bonus Minigun that goes for $398 (about £279), and a retail version for $380 (about £266).
The good news is that the price includes worldwide shipping.
Pre-orders for ThreeZero's Fallout 4 power armour figurine will begin 28th Jan at 1am UK time.
Here's the full rundown of the features that make this power armour figurine so special (via ThreeZero's Facebook page:
Figure stands 14.5 inches (36.8 cm) tall.
Fully-posable figure features over 35 points of articulation.
Incredibly detailed mechanical parts.
Articulated fingers.
Exchangeable male head and helmet.
Helmet features a light-up LED function. (Requires: AG1 X 3 Button Cell Batteries for light-up LED function. Batteries Not Included.)
All outer-armor pieces are detachable and interchangeable with upcoming FO4 Power Armor figures.
Detailed endoskeleton underneath the outer-armor pieces.
Incredible paint application to highlight all the details with weathering effect based on the appearance in video game.
Includes highly detailed weapon AER-9 Laser Rifle.
Here's some more pictures of the Fallout 4 figurine. There's a lot more where those came from on ThreeZero's online store and Facebook page.
I reckon it would look good next to Johnny's Pip-Boy, which he inexplicably wore for a week.