Fall Guys was secretly exiling ne'er-do-wells to a special Cheater Island, but not any more
More robust anti-cheat coming in next update.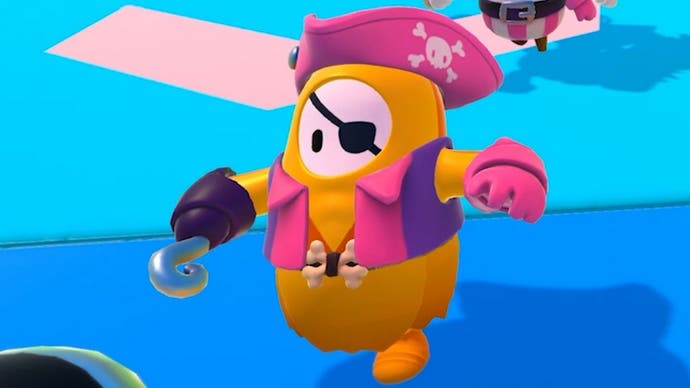 In an illuminating series of tweets, Fall Guys developer Mediatonic has revealed that, as part of its early anti-cheat efforts, it was secretly exiling unsavoury sorts to battle it out together on a special Cheater Island - but that a more robust anti-cheat solution is coming in its next update.
As the official (and spicy) Fall Guys Twitter account explains it, Mediatonic launched its knockabout smash hit with its own anti-cheat protection system that, initially at least, just lived in the background, identifying, but not yet banning, those engaged in illicit practices.
Once the developer was certain all was right and that the system wasn't producing false flags, it quietly launched Fall Guys Cheater Island, which it describes as "a magical place where cheaters could happily compete against themselves for the Cheater's Crown," before clarifying, "Literally just a normal crown but tainted with a hollow feeling of guilt and regret".
The short version of Mediatonic's longer story is that, over time, it began to adjust its anti-cheat threshold so that confirmed cheaters would be flagged and then, during matchmaking for their next game, zipped into the queue for Cheater Island, where a very lop-sided battle awaited.
Here's another video that we think is Cheater Island

The person recording isn't cheating...

Either they didn't cheat, just for the video...

Or it's a genuine server and a legit player...

Either way, it makes the game look bad pic.twitter.com/wxTyIA9Urr

— Fall Guys (@FallGuysGame) September 14, 2020
Unfortunately for Mediatonic's devilish scheme (but fortunately for everyone else), there simply weren't enough cheaters around at any one time to populate the secret island with the 40 players required to begin a match. In these instances, Fall Guys instead trapped cheaters eternally within the game's initial matchmaking 'falling' sequence, meaning anyone complaining of "falling forever" were in most cases revealing themselves to be cheaters.
Delightfully, however, Mediatonic reports that last week "something exciting happened", and that the very first instance of a Cheater Island match was triggered. Since then, a number of videos seemingly depicting the hilarious slapstick nonsense of a bunch of cheaters obliviously all trying to out-cheat each other have appeared online but as Mediatonic concedes, the chaos of the videos, out of context, makes Fall Guys look bad - so Cheater Island is, sadly, no more.
That doesn't mean an end to Mediatonic's efforts to combat cheating in Fall Guys, however, and the developer has announced it will be implementing Epic's anti-cheat solution in its next update. "Our cheat detection system was good," it explains, "but we hadn't expected so many players... and we had no idea the lengths that some players would go to cheat".
The first fruits of this partnership will launch in Fall Guys' upcoming Big Yeetus and Anti-Cheatus update, which also introduces the much-teased Yeetus. More of which, says Mediatonic, will be revealed soon. Until then, the full Fall Guys story of Cheater Island is a fun read.