Fall Guys goes free-to-play in June alongside Switch and Xbox release
UPDATE: Being delisted on Steam, but won't affect existing players.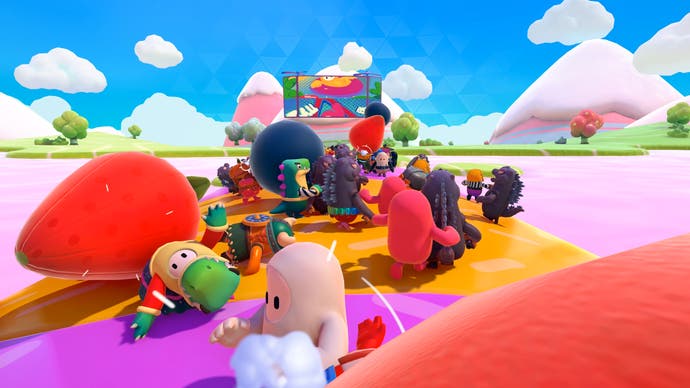 UPDATE 11.30pm: Following Fall Guys' free-to-play announcement earlier this evening, developer Mediatonic has provided some additional details relating to the PC version, confirming the game will be delisted from Steam as of 21st June - although existing users will be able to continue playing on Valve's platform.
The news isn't hugely surprising, of course; Epic Games acquired Mediatonic in 2021, and while the developer insisted Fall Guys would "remain available on Steam" at the time, the money was on it following a similar trajectory to Rocket League - which ended up ditching Steam in favour of the Epic Games Store after it went free-to-play following an acquisition by Epic.
As so here we are; as of 21st June, when Fall Guys is delisted on Steam, new players will only be able to access the game by download its launcher on the Epic Games Store. Existing Steam users, however, won't be forced into a mandatory move and will able to continue playing as before, with Mediaonic promising the Steam version will "continue to receive all the usual updates", including new seasons, patches, and features.
---
ORIGINAL STORY 6:35pm: Knockout battle royale game Fall Guys is going free-to-play from 21st June, developer Mediatonic has announced. Additionally, the shift in monetisation model will coincide with the game's long-awaited release on Switch and Xbox, as well as the arrival of a new PlayStation 5 version, and its debut on the Epic Games Store.
As part of its transition to free-to-play, Fall Guys - which celebrates its second birthday later this year - will be hitting the reset button, and 21st June will see it re-launching with a new season that Mediatonic is referring to as Season 1: Free For All, promising "stacks of new challenges and rewards".
As with Rocket League before it, which similarly went free-to-play after being snapped up by Epic Games, Fall Guys will be adapting a monetisation model that'll be immediately familiar to Fortnite players. That means the arrival of a new paid premium Season Pass - purchasable with a new in-game currency known as Show-Bucks - that'll sit alongside the existing free tier.
To help ease Fall Guys' transition from a paid game to a free-to-play - and to "thank the global community...for their support" - Mediatonic will be giving all existing players access to a special Legacy Pack, which will include various cosmetic items and the first Season Pass for free.
Fall Guys will be available on Switch, PS4, PS5, Xbox One, Xbox Series S/X, and the Epic Games Store as of 21st June, and cross-play and cross-progression will be supported across all platforms. Mediatonic hasn't yet discussed the future of the game on Steam, however - specifically if those that paid for it on Valve's platform will be required to jump to the Epic Games Store if they want to continue playing - but I'll update this story as more is shared.