Factorio is leaving Steam early access sooner than expected to avoid Cyberpunk 2077
Version 1.0 now launching in August.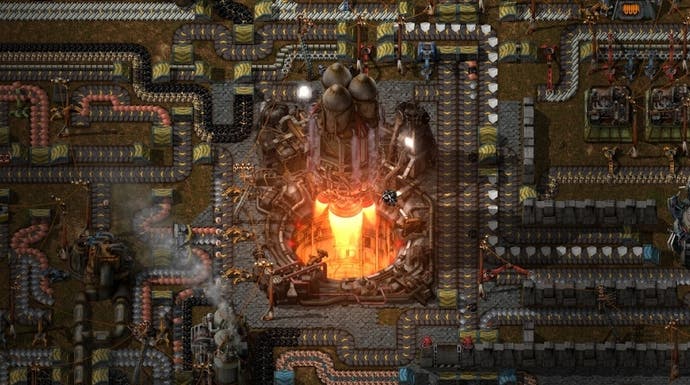 Wube Software's much-loved construction and management sim Factorio will be leaving Steam early access a little sooner that expected; its version 1.0 release is now scheduled to arrive on 14th August in a bid to avoid the mad clamour of Cyberpunk 2077's launch window.
Factorio, which originally entered Steam early access back in 2016, casts players as sort of impromptu space industrialists, tasking them with building increasingly elaborate contraptions in a ceaseless grasp for ever-more efficient automation.
The gist is that players, having crash-landed on a distant, untouched planet, must manufacture their eventual means of escape. Initially, natural resources can be used to fashion basic machines which, in turn, open up new construction possibilities, enabling players to creep up the game's dizzying tech tree. Eventually, when the planet has become a smog-shrouded industrial hell-hole, the indigenous creatures are banished, and conveyor belts stretch as far as the eye can see, they might finally be ready to launch back into space.
Factorio's compellingly single-minded gameplay loops have been immensely well-received - it has manage to maintain its Overwhelmingly Popular rating on Steam after more than 61,000 player reviews - and Wube announced its long-awaited plans to move the game out of early access last November, revealing that version 1.0 would arrive on 25th September 2020.
However, in a new blog post, Wube has said it's now shifting that release forward by around five weeks, to 14th August, to avoid clashing with CD Projekt's hugely anticipated Cyberpunk 2077 - which, following a delay earlier this year, is now due to launch on 17th September.
Explaining its decision in more detail, the developer wrote, "We think any release close to such a monumental game is going to feel some negative effects, such as everybody playing and covering Cyberpunk and taking attention away from other games."
In that light, Wube says it felt its options were either to release early or "quite a while after it", and ultimately settled on the former approach for several reasons - namely good development progress, a previously announced descoping of certain features (it stressed no features have been cancelled or postponed due to the Cyberpunk release date), and, simply, that "the general feeling in the office is that the game is pretty much done".
As such, those who've been eagerly awaiting Factorio's version 1.0 release will now have the pleasure of its company from 14th August this year.