F1 2010 due out in September
Massive Career mode, multiplayer.
Codemasters has announced plans to release F1 2010 for PC, PS3 and Xbox 360 this September.
The British publisher has also released the first two screenshots of F1 2010 in action.
F1 2010 promises to include all the official teams, drivers and circuits, including the returning Michael Schumacher and the new Korean International Circuit.
Game modes include an "extensive, innovative" Career mode, plus Grand Prix, Championship and Time Trial.
Naturally there will be competitive multiplayer as well.
As you might imagine, developer Codemasters Studios Birmingham is using Codies' fabulous EGO engine (DiRT 2, GRID).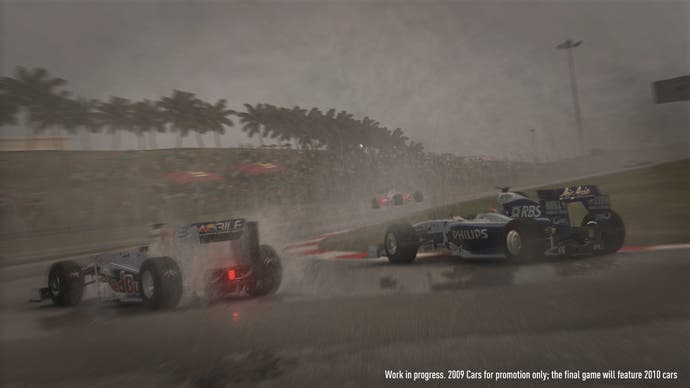 We're promised a "highly advanced" damage model, dynamic weather and changes to "accurately recreate the unique aerodynamics and handling of 200MPH+ Formula One cars".
Codies also boasts of "unprecedented access" to teams and drivers, but then everyone says that. I had unprecedented access to a sandwich earlier.
We're all fairly pumped about this one though, especially after Codies did such a reasonable job of F1 2009 on Wii. Expect proper impressions of F1 2010 very soon.