Ex-Battlefield, Payday dev David Goldfarb unveils rhythm FPS Metal: Hellsinger
Out on PC, current- and next-gen consoles in 2021.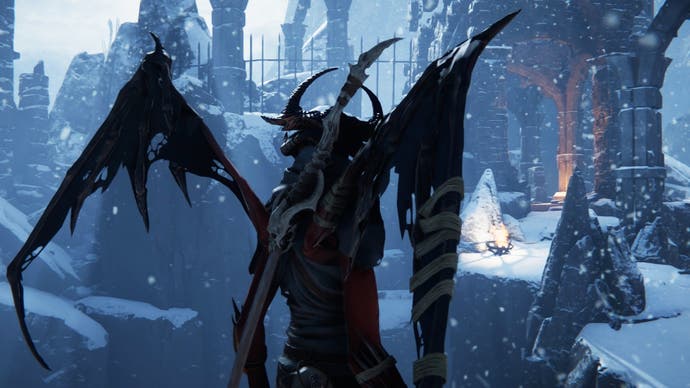 Developer The Outsiders - the studio co-founded by former Battlefield 3 lead designer and Payday 2 director David Goldfarb - has unveiled Metal: Hellsinger, a rhythm FPS that's coming to PC, Xbox One, PS4, and next-gen consoles next year.
Metal: Hellsinger will be The Outsiders' first release since the studio was founded in 2015 - its previous project, four-years-in-the-making stealth-action experience Darkborn, was shelved after being dropped by publisher Private Division - and promises to deliver frenzied bouts of gun-based demon-slaying, all synced up to a metal soundtrack.

Each level will feature its own track (with the likes of Trivium's Matt Heafy and Arch Enemy's Alissa White-Gluz contributing), and as a player's shot accuracy increases, so too will their power and the complexity of the music - which start as atmospheric background ambience and gains new layers until it builds to big metal anthems - giving dual incentive to stay on the beat.
Metal: Hellsinger might not be the only rhythm FPS in the works - at least two other games got their announcements out before it - but creative director Goldfarb (who, full disclosure, has also written for Eurogamer in the past) has a strong track record, and there's a lot to like about the ridiculously over-the-top, ultra-metal trappings on display in the reveal trailer above.
Metal: Hellsinger, which The Outsiders aiming to be "the most metal game ever made", is due to release on PC, Xbox One, Xbox Series X, PlayStation 4, and PlayStation 5 some time in 2021.