Everything announced in Capcom's Resident Evil showcase
Village launches May, with exclusive PS5 demo now.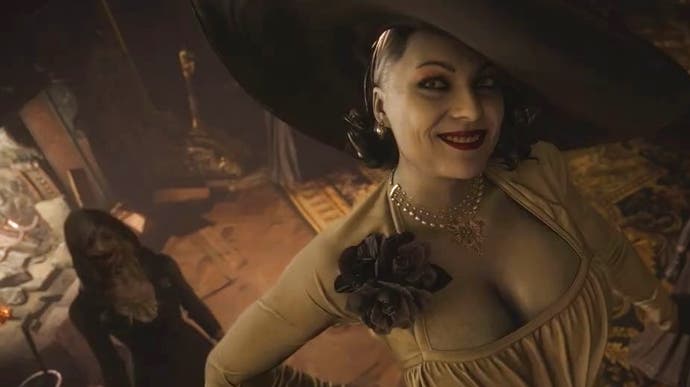 Tonight's Resident Evil showcase was heavy on news about the upcoming Resident Evil Village, which was announced for release on 7th May 2021.
As well as PC, PlayStation 5 and Xbox Series S/X, Village will also be released on the same date for PlayStation 4 and Xbox One, Capcom confirmed (which had been uncertain until now).
Excitingly, PS5 owners can play a non-combat demo set in Village's castle area from tonight. This slice stars a new character named The Maiden trying to escape the area, and is designed to show off the game's visuals, atmosphere and environmental detail.
Less excitingly if you don't have a PS5, tonight's demo is PS5 exclusive and will never release elsewhere. A different demo will be available later this spring for all platforms.
Village itself looks impressive - and for anyone who loved Resident Evil 4 back in the day, full of throwbacks to that beloved entry. The action starts in a European village but then moves to the castle area we saw today. Each area sounds like it will have a memorable boss character, with the castle ruled over by the tall vampiresque lady who got fans excited last weekend.
This tall lady is seen speaking on the phone to someone named Mother Miranda, who sounds like her boss, and mentions her brother, who sounds like he was the boss of the game's first area. The tall lady also introduces returning Resi 7 protagonist Ethan Winters to her three creepy daughters - who are not quite as tall, but can turn into swarms of flying insects (wasps? moths?).
Resi 4 fans will note that Village includes the former's brilliant Tetris-esque inventory management system. Village also features a merchant, who will pop up across the map.
Village has many different editions available to purchase. Alongside the Standard Edition, there's a Digital Deluxe Edition available on all platforms which includes Max Difficulty, Safe Room Music, a Mr Everywhere weapon charm, a Save Device tape recorder, an Albert01 gun, a Found Footage RE7 filter, and something called The Tragedy of Ethan Winters.
There's also a Collector's Edition which includes the above digital items plus a box of physical bits such as a poster, artbook, Steelbook case and Chris Redfield figurine. Here's where you can already pre-order Resident Evil Village.
On top of these, Capcom will sell Resi 7 and Village together in a bundle if you haven't played 7 yet. And if you pre-order Village there's some bonuses - an in-game Mr Racoon weapon charm and handful of survival items to help you early on. Digital orders from the PlayStation Store also get a digital soundtrack.
Elsewhere in the showcase, Capcom revealed Re:Verse Resident Evil, a new multiplayer spin-off, and showed an old trailer for upcoming CGI Netflix series Resident Evil: Infinite Darkness, which stars Leon S. Kennedy and Claire Redfield in a fresh story set a couple of years after Resi 4.
Re:Verse looks to be a competitive multiplayer shooter where you can play as various characters from throughout the Resident Evil series. Its visuals have a comic book-style effect, and it is being beta tested now. From the footage shown, it still needs a bit of work. There's no word on a release date, but if you buy Resident Evil Village then you'll get it free.
Finally, Resident Evil is getting a crossover with The Division 2. Look for Resi items in Ubisoft's online shooter starting on 2nd February, including Leon's Raccoon City cop outfit.