Every Halo FPS from now on will have split-screen
Slayer.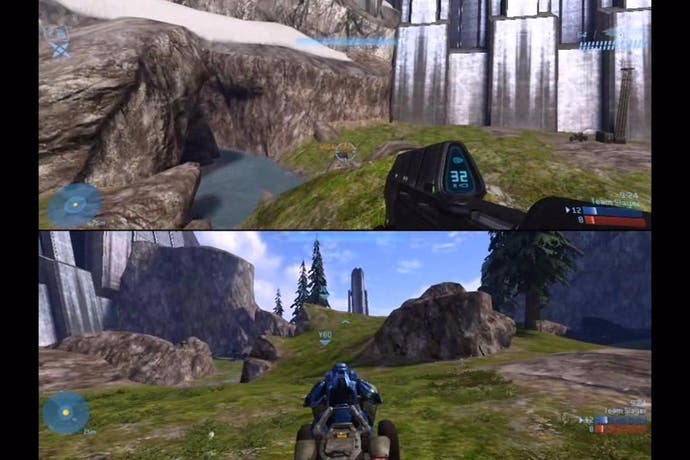 Every first-person shooter Halo game from now on will have split-screen, developer 343 has said.
Halo 5 launched without split-screen, much to the annoyance of long-term fans of the series. At the time, then 343 chief Josh Holmes said the decision to remove split-screen from Halo 5 "was one of the most difficult ones we've ever had to make as a studio".
"We know that for many of our fans, Halo has meant playing together with friends in the same room," he said. "We all have great memories of past Halo split-screen multiplayer matches.
"To move Halo's gameplay forward and deliver a true next-gen experience, tough choices had to be made. Our decision was driven by a desire for scale, fidelity and focus to ensure that we would deliver the best quality experience possible.
"With Halo 5 we are delivering massive scale environments, improved AI behaviour, increased visual and gameplay fidelity... something that truly takes advantage of a new platform. Many of our ambitious goals for Halo 5 would be compromised in a split-screen setting and the time spent optimising and addressing split-screen-specific issues would take focus from building other parts of the game.
"Game development is a balancing act of resources, time and technology, and in this case we made the tough decision to sacrifice something that's been near and dear to us all."
Now, in a talk at the DICE conference, 343 boss Bonnie Ross confirmed that the studio had learnt from its mistake.
Here's the quote, which you can watch in the Twitter video below:
"We've also had a lot of learnings along the way. When we fell down with multiplayer launch of MCC, or when we didn't put split-screen in with Halo 5, it was incredibly painful for the community and for us. It erodes trust with the community, as the community is a part of our world-building.
"A lot of learnings from that. I would say, for any FPS going out will have always have split-screen in going forward."
Ross' comments suggest the inevitable - but so far unconfirmed - Halo 6 will have split-screen, which is sure to delight some fans of the series. Halo has a wonderful history with local multiplayer, from LAN tournaments with Combat Evolved to taking on the campaign with a couch co-op friend in Halo 2. I spent countless hours soldiering through the campaigns of Bungie's Halo games split-screen with my brother on the hardest difficulty, and a lot of fun it was, too.
I have to admit, by the time Halo 5 came around, I was less bothered by the lack of split-screen than I would have been during the Xbox 360 era (as I noted in my Halo 5 review). With the rise of online multiplayer and my own personal living situation, I don't often have anyone around to play couch co-op with. Instead, I mostly play online with friends.
But I totally get why the lack of split-screen was a shocking omission for some fans, and why 343 was criticised for it. Clearly, the backlash had an impact on the success of the game - and the developers at 343.
While we're on the subject of Halo 6, can we expect a tease at E3 this month with a release in time for Christmas 2018 on Xbox One, Scorpio and PC? I reckon so!