Eurogamer TV talks WWE 13 with Stone Cold Steve Austin and Jim Ross
James Hills goes in search of the bottom line.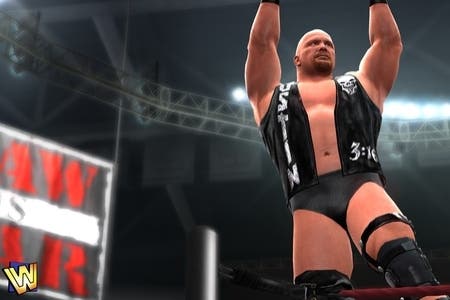 If you read Chris Donlan's WWE 13 preview last month then you know a few important things: 1) He got to go to Summer Slam, and is therefore a lucky git. 2) It's another extremely polished fighting game based on the noble art of jumping around on canvas and trying to avoid lying down for too long. And 3) While it's full of contemporary superstars, it's also a bit of a trip down memory lane.
That's because - for those of you who don't watch three hours of WWE Raw every week and fork out for the pay-per-views on Sky - the last 18 months have seen a resurgence in what the WWE calls "Attitude". Rather than easily categorised goodies and baddies, we're back to the shades of grey last seen during the rise of D-Generation X, where everyone's sort of bad and sort of good and nobody's quite sure where the fourth wall begins and ends. WWE 13 not only captures the current vibe, with poster boy CM Punk on the cover (and, er, posters), but allows you to relive vintage moments during the period when WWE went head to head with WCW for ratings and eventually crushed its competitor.
All very cool. At least to me.
But Chris wasn't the only one over in Los Angeles checking out the game - we also sent Eurogamer TV's James Hills (these days usually found over at Outside Xbox) to wave his camera in a few people's faces. So if you're interested in hearing what Stone Cold Steve Austin sounds like when he's saying "Eurogamer", or just want to get your head around the game a bit with help from WWE Games' Cory Ledesma or legendary commentator Jim Ross, then check out James's report below.
Watch on YouTube