Eurogamer Readers' Top 50 Games of 2006
The whole thing! Go mad!
The Internet has spoken! To us! Using a form! And the results are further down this page. And across the next four. We thought, what with it getting on a bit, we wouldn't keep you in mega suspense and would instead splurge your favourite games of the last year all in one go. As with our own staff votes, you were asked for a list of your favourite games, and votes were compiled based the games' presence and their respective popularity with each of you - so Viva Piñata at number one, for example, was a bit more valuable than Mario & Luigi at five. Thanks once again for your involvement, and thanks to whoever at the TrackMania forums tried to cheat the game to the top of the chart. Finally, thanks to the chap whose wonderful typo brought us all a bit of January cheer. Altogether now: Destroy All Hymens!
50. Rhythm Tengoku
(J.P. Room, GBA) - Gamepage
HairyArse: The sheer gall of Nintendo to make a game that at its most basic level involves tapping the A button, yet still manage to make it an absolutely endearing, magical and transfixing experience shows that while other companies will strive to match it, there just is no beating that unique and often bewildering Nintendo magic.
Jonathan Burroughs: The most fun to be had playing a video game with your eyes closed.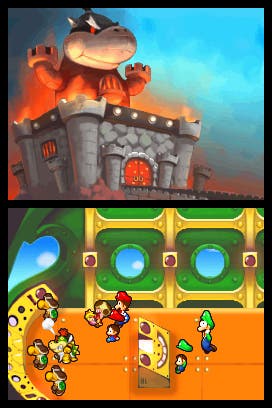 49. Mario & Luigi: Partners in Time
(Alphadream, DS) - Gamepage
(Weirdly, a lot of you voted for this, but the people who made it their number one chose not to add a comment. We can only assume it left them speechless - as it should.)
48. Tony Hawk's Project 8
(Neversoft, Multi) - PS3 - Xbox 360 - Xbox - PS2 - PS3
Phil May: This is the sort of rebirth that ALL tired old IPs should have. Tony Hawk's Project 8 and its much talked about "nail a trick" mode gave us the PROPER next generation Tony Hawks we didn't get with American Wasteland.
47. Warhammer 40,000: Dawn of War - Dark Crusade
(Relic, PC) - Gamepage
Mike Carter: A new addition to my favourite RTS game for a very long time, adding two excellent new races and the kind of campaign the first two games really should have had. Many evening have been spent playing this.
46. GTR2
(SimBin, PC) - Gamepage
Gareth Qually: So much detail and so much fun. Finally a sim worthly of replacing Grand Prix 4.
Segnit: Not exactly a game now is it? Still, it's a landmark title for bringing simulators (Like rFactor or Live4Speed) out of the elite closet and into the mass.
45. Prof. Kawashima's Brain Training: How Old Is Your Brain?
(Nintendo, DS) - Gamepage
Louis Friend: I bet everyone else called him a doctor.
44. Sam & Max Episode 1: Culture Shock
(Telltale, PC) - Gamepage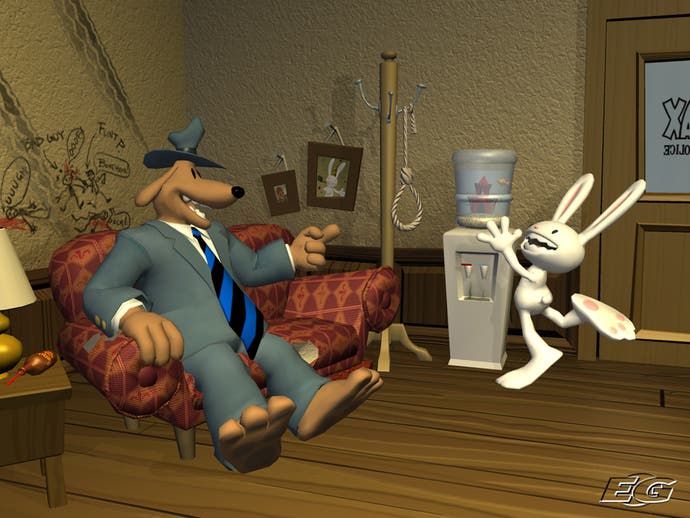 Vincent van Moppes: Successfully reinvigorated the adventure genre, without falling into the trap of adventure games of old that relied more on bizarre logic than simple deduction. Plus, a consistently funny script and arguably the first real episodic game experience. For all these reasons, it is one of most original games released last year, and certainly the most pleasant.
Adam Shepherd: It's Sam & Max again, better (though shorter) than before. And nobody needs more than that.
43. World of Warcraft
(Blizzard, PC) - Gamepage
illi: Its gameplay and its community. (We assume he means these are reasons to like it. And not, you know, targets.)
Jim Rhodes: Even though I have finally shaken the addiction (again), I have nothing but fond memories of a place that for me, and millions of other players, does exist. That place is Azeroth, and when they tease open our bodies during the post mortem, its maps will be carved deep into our hearts.
Baz: Thanks to this, I didn't get a chance to waste money on playing halfway through any other games.
42. Dreamfall: The Longest Journey
John Mitchell: The story was so fantastically well written you actually formed your own opinions on the characters in the game. It was a refreshing title to play comapared to the numerous sequels, updates nowadays.
Patrick Newman: An absolutely gripping, moving story, with fantastic characters. As an actual game it has plenty of flaws, but as an experience, it is second to none.
Dylan Holmes: Dreamfall has many flaws, but its storytelling was still miles ahead of anything else this year, and it's use of sub-texts and "unspoken plot" seems relatively new to the realm of gaming. Plus, the visuals and audio are FANTASTIC. And it has two fully-fleshed out believable female characters, which is some kind of gaming record.
41. Guild Wars: Nightfall
(ArenaNet, PC) - Gamepage
Maquet: A full world of fantasy, always updated with lots of events. Nightfall is simply so niiiice! (Alright then.)