The Eurogamer Mobile Applications
Hey, do you like Eurogamer? Would you like to read it when you're on the go?
Good news then! Eurogamer has applications available for both the Apple iPhone and Android-based phones.
We also run a mobile version of the site, suitable for checking the latest headlines and features, at www.eurogamer.net/m/.
Eurogamer iPhone application
The Eurogamer application for iPhone allows you to read news, reviews, previews, interviews and articles, participate in comment threads, view screenshots, go on the forum and even watch the latest trailers and Eurogamer TV Shows - in landscape view and everything.
The Eurogamer iPhone application is an ad-supported free release.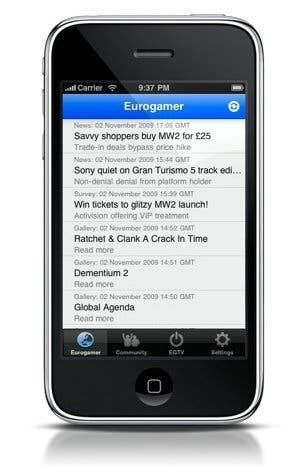 Eurogamer Android application
Not an Apple fan? Fair enough - maybe you're more of an Android. If so, check out the Eurogamer application for Android, available for free on the Android market. Like the iPhone app, it allows you to read and comment on news, reviews, previews and screenshot galleries, and you can use the forum with it too.
The Eurogamer Android application is free and we recommend you have Android OS version 1.5 or above.
The future!
Eurogamer is always looking for new ways to get the word out about the latest games, whichever z-list celebrities Ellie's interviewed lately and so on. If you would like to see us on a new format, or have any feedback on the above applications, please contact us and let us know.