Eurogamer iPhone app v3 live!
Full changelog and shots within.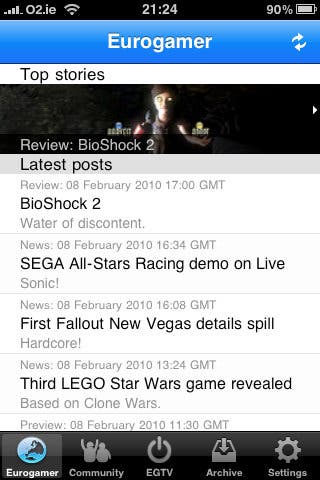 Eurogamer is awesomely happy to announce that version three of the Eurogamer iPhone application is now available on the iTunes App Store.
V3 features numerous interface improvements across the board, allowing you to email links within the app, use Facebook share, check out images in articles and catch up on entire comment threads for features.
On the forum there's also a fancy new "Watch thread" function, thanks to which the application can inform you when someone posts in a thread, and there's also a better viewer for the forum in general so you can see more at once.
Our wonderful iPhone app developer Shane McCafferty (EGVroom on Twitter) has also squashed tons of bugs and invites us to try and find a new Easter egg.
Not content with that, you can also turn the iPhone left or right to reorientate for landscape images. Revolutionary.
You can buy the Eurogamer iPhone application on iTunes for £2.39. Check out the Eurogamer iPhone app screenshot gallery to see how v3 looks in action.