Eurogamer Editors' Games of the Decade
Six of our Top Men (and a lady) pick a game they love and explain.
Johnny Minkley (Eurogamer TV Editor) - Guitar Hero
Bernard Butler was mine. The floppy-haired, hip-swinging, riff-slinging Suede guitarist conjured sounds unlike anything my ignorant teenage ears had ever heard. I can pinpoint the exact moment I realised I wanted - needed to play electric guitar. I'd borrowed a cassette of the first Suede album from my first proper girlfriend, largely just to humour her.
When I finally got around to pressing play, the music picked up during the outro solo to the opening track, So Young. I was mesmerised, inspired, rewired. And I played the song - plus its angry neighbour, Animal Nitrate - over and over and over. My dad's Les Paul was swiftly taken hostage and I've never looked back. (And he never got his guitar back. Sorry, dad.)
The genius of Guitar Hero is in its instinctive understanding of the powerful bond between man and axe, and the primal need not just to make music, but to make it while grunting, jutting and thrusting as ridiculously as possible, ideally in public.
In 15 years of obsessive, devoted, glorious guitar playing I've managed to 'live the dream' of live performance in a handful of unremarkable bands, often watched by literally tens of people (and, on one memorable occasion after a power cut, by a barman upturning chairs, while a cleaner mopped the floor).
On 14 June this year, on the main stage of the Isle Of Wight Festival, I swaggered on after a set from the Pigeon Detectives, to play guitar in front of tens of thousands of people. When I say guitar, I mean, of course, Guitar Hero. My "band" played Eye of the Tiger. People sang and cheered. No-one threw bottles of piss. And then I walked to the front of the stage and took a photo.
As appallingly naff as it may be to caper around on stage clutching a child's toy, filling the void between genuine acts, the sweeping rush of adrenaline, the intoxicating fizz of excitement is all too real. It's the experience everyone who picks up an electric guitar craves: to perform in front of thousands. One which, even for those of us who've spent half a lifetime in bands, will never otherwise know. Dignified? Not remotely. Fun? Immensely. And that's the essence of Guitar Hero.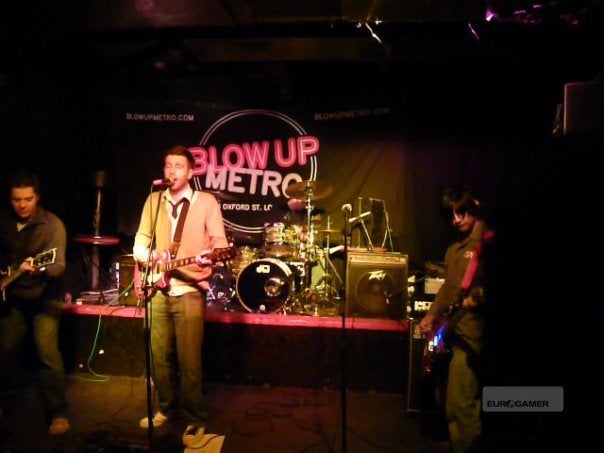 The experience has, of course, evolved via Rock Band and World Tour into the classic four-piece structure. But for the discerning fret-wanker - and the association between playing the electric guitar and masturbation is hardly coincidental - drums, bass and an irritating, show-stealing ponce on vocals are just a means to an end. To the axe-wielder, one man and his guitar remains the purest expression of self-indulgent twattery: an epiphany of onanism.
And that's exactly what made the original Guitar Hero so brilliant and revolutionary: it was the short cut to the kind of extreme cock-rockery and absurd posturing that otherwise required years of dedication and terrible haircuts to replicate (I discount air guitar out of hand as a form of mental illness).
The success of Guitar Hero is usually, and understandably, attributed to its accessibility - anyone can pick up and play along to classic songs in seconds. But that's only half the story. At the other end of the, er, scale, it appealed to a specific type of knuckle-scraping male, for whom the same rings true with the real thing: the faster the finger-work, the bigger the dick. Willy-waving with a whammy bar. Do you think Harmonix included a tilt sensor by accident?
And, therefore, critical to Guitar Hero's early growth was the hardcore, elitist appeal of the most ferociously unapproachable Expert tracks on the setlist. Bark At The Moon was the original executioner; and this trend reached its brutal apotheosis in Guitar Hero III's Through The Fire And Flames: the lick that launched a thousand flicks on YouTube. Above all, the game excelled whatever the player's aptitude.
Looking back at the track listing for the original Guitar Hero, the tracks that stand out are not necessarily those that were my favourites songs, but those that produced the most memorable gaming moments. Who would have guessed Boston's preposterous More Than A Feeling, with its cabaret arpeggios, chugging powerchords and twinkling solo that demanded the player drop to their knees, groin forward, head back in a trance of self-satisfaction (surely this wasn't just me?), would prove the game's highlight?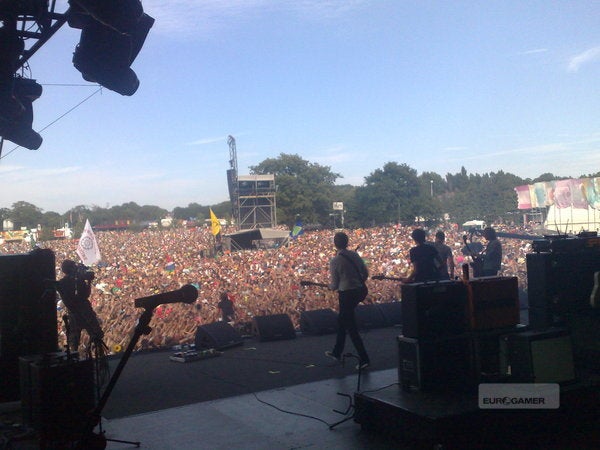 And that's another important legacy of the original Hero: introducing bands to new audiences in a uniquely engaging way that has effectively revitalised cobwebbed careers and motivated gamers to explore unfamiliar genres (admittedly mainly of the hard rock variety, but still).
The Gallagher brothers' latest domestic got me thinking about Guitar Hero on this point. If Bernard Butler was my guitar hero, Oasis were the band that defined my youth and - like a million other bedroom Britpoppers - made me want to write songs and, yes, become a rock'n'roll star.
Yet despite vast success on home soil, Oasis famously never truly cracked America; the demands of touring the US, and the basic levels of professionalism required proving too much for the Mancunian Chuckle Brothers, who also split mid-tour in 1996. I am utterly convinced that had games like Guitar Hero been around in the mid-nineties and enjoyed similar popularity, Oasis would have cracked the US without even sticking a hush puppy on a plane. Note, also, that breaking point this time was reached because Liam apparently smashed up Noel's guitar. The Unforgivable.
There will always be the joyless jerks who sneer at those of us enjoying Guitar Hero and Rock Band for playing with toys instead of manning up and trying the real thing. Which is, of course, to miss the point entirely. Those who already wanted to play the guitar already do. But I'd wager a big number of those who didn't may well end up making the switch. And, frankly, who gives it toss if it's this much fun?
Guitar Hero will never teach you how to play the guitar. But whether you're thrashing plastic on your own, or in full view of 40,000 eyeballs, the feeling in that moment of escapist bliss is every bit as electric. And if that's not the whole bloody point, then I'm Bernard Butler.
Become a Eurogamer subscriber and get your first month for £1
Get your first month for £1 (normally £3.99) when you buy a Standard Eurogamer subscription. Enjoy ad-free browsing, merch discounts, our monthly letter from the editor, and show your support with a supporter-exclusive comment flair!