Eternal Darkness "spiritual successor" Shadow of the Eternals announced
UPDATE: The crowdfunding page is up along with nine minutes of gameplay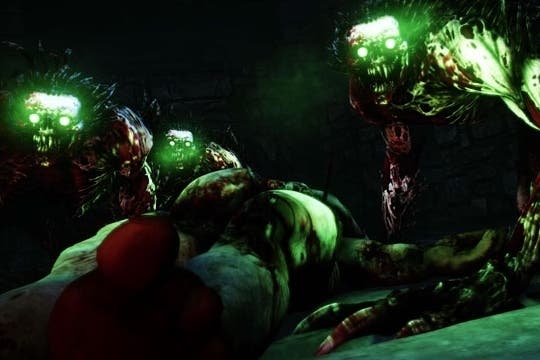 Update 2: The Shadow of the Eternals crowdfunding campaign has begun on its official site.
While the $1.5 million goal will only produce the pilot episode, Precursor Games noted that "future episodes of Shadow of the Eternals will be significantly less to produce."
The plot will surround detective Paul Becker as he interrogates two stereotypical looking men, a businessman and a punk, about a massacre of which they were the only remaining survivors. Both men's memories are wonky, but they inexplicably want to kill each other. The story will span 2500 hundred years over twelve episodes.
$5 will grant supporters the first episode, while $25 will guarantee backers access to an additional five episodes.
As of now, the Shadow of the Etenrals campaign has raised $49,405 towards its $1,500,000 goal with 30 days to go before its 6th June deadline.
IGN has a developer walkthrough showing off nine minutes of in game footage. Check it out below.
Update: In honour of a crapload of details already spilling out on Shadow of the Eternals, IGN has updated its report, confirming the game's platforms as PC and Wii U.
It also confirmed that the game will be a 12 episode affair and will be looking to secure $1.5 million, with any additional funds raised going to future episodes, additional characters, additional platforms and in-game perks.
The leaked plot details remain accurate and the game will feature an "ensemble cast."
Dyack will be serving as chief creative officer on Shadow of the Eternals.
Original story:: A "spiritual successor" to Silicon Knights' Gamecube horror cult-classic Eternal Darkness: Sanity's Requiem has been announced.
Entitled Shadow of the Eternals, little is known about the project, but IGN confirmed that series creator Denis Dyack is involved then posted a teaser trailer for the project.
More will be known on Monday when mysterious new Canadian studio Precursor Games launches its crowdfunding campaign to get the game off the ground.
Until then, a slew of rumours have sprouted based on a cached version of Precursor's official site (via NeoGAF).
Evidently, Precursor Games had written up a crowdfunding campaign for an Eternal Darkness sequel called Shadow of the Ancients. It was to be an episodic series for PC and Wii U that centered around a Louisiana detective named Paul Becker, though it would span over 2500 years and be at least partially set in Egypt, England and Hungary.
Like Eternal Darkness, Shadow of the Ancients was set to have players inhabit multiple characters, such as Clara Rusznyák, a handmaiden to the noblewoman Erzébet Bathory.
The idea behind Shadow of the Ancients' campaign was to raise $1.1 million to create the first episode, which would last approximately two-four hours and be out by Q3 2014.
Of course, some of this information may have changed - just as the title did - so take it with a grain of salt for now.