Epic properly details Fortnite's imminent heist-themed High Stakes limited-time event
New mode! Challenges and rewards! Fancy outfit!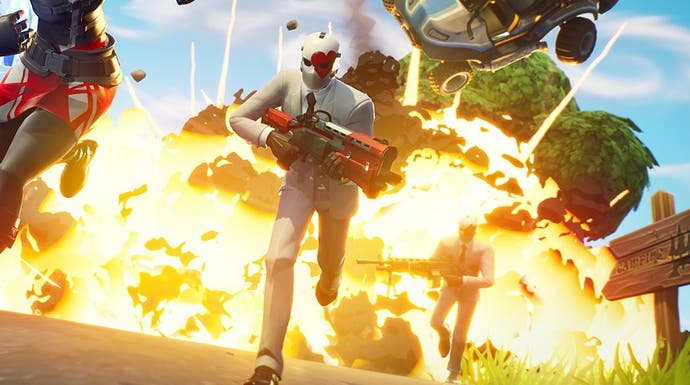 Epic Games has now, following its sneaky tease last Friday, revealed full details of Fortnite's upcoming heist-themed High Stakes limited-time event, which comes to Battle Royale mode later this week.
High Stakes' centre-piece is the new The Getaway limited-time mode, which is designed for squads and - as was revealed during Fortnite's PAX West livestream over the weekend - sets teams loose across the Battle Royale map in search of jewels.
These jewels are found in safes which fall from the sky attached to Supply Drop balloons. Once a jewel has been retrieved, a team must then safely transport it to a getaway van elsewhere on the map. The first four teams to successfully get a jewel into a vehicle - all while avoiding the barrage of gunfire from competing squads, of course - win the game.
High Stakes' second component comes in the form of three new challenges, each of which awards a special event-exclusive item once completed. By playing ten matches of the new Getaway mode, for instance, players will earn 5,000XP.
A card-suit-themed spray, meanwhile, is awarded to players that manage to deal 500 damage to jewel carrying opponents, and there's a decidedly spiffy contrail - which spews cash out behind skydivers at the start of a match - for those that pick up a jewel in five different Getaway matches. Finally, players that complete all challenges get a Crowbar harvesting tool.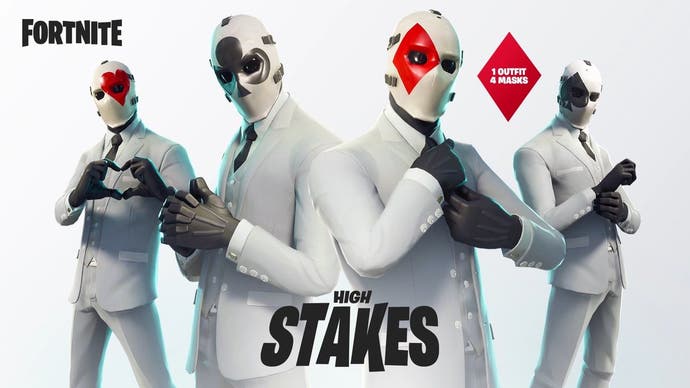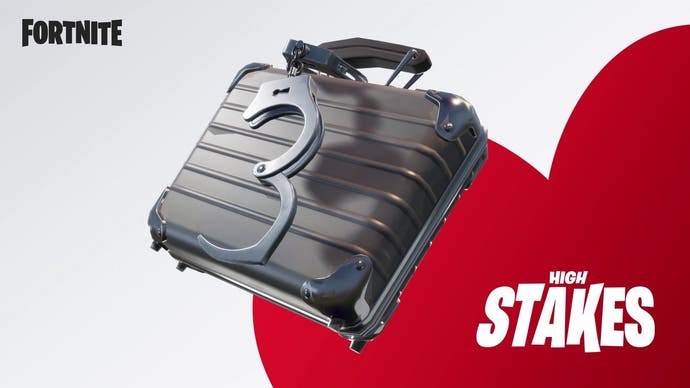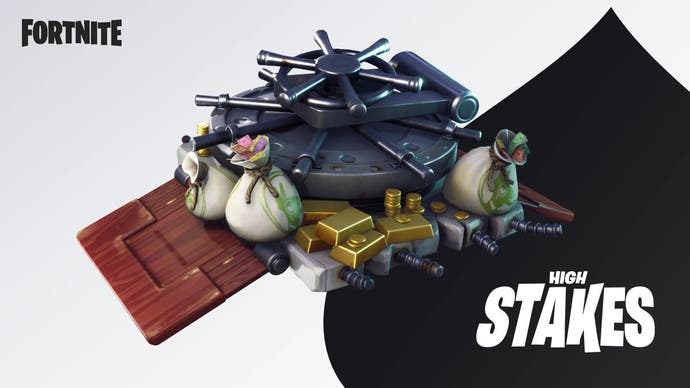 All those rewards pair nicely with the extremely swish event-exclusive paid cosmetics that Epic has also now revealed in full. The Wildcard outfit, with its gloriously sharp white suit, comes with four different mask variants - sporting either a heart, a club, a diamond, or a spade - as well as the Cuff Case back bling. The new Safe Cracker glider completes the set.
Fortnite's High Stakes event will commence later this week.