Epic Games Store launches a month-long Mega Sale
Plus, claim a £10 voucher to spend on any game over £13.99.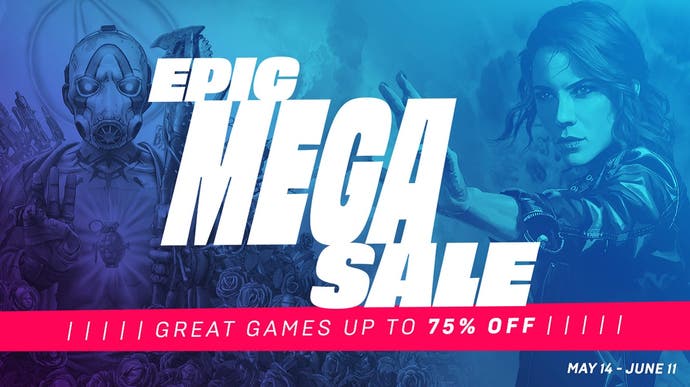 Not content with just giving away Grand Theft Auto 5 for free, the Epic Games Store has launched a month-long Mega Sale featuring loads of games at up to 75 per cent off.
To really sweeten the deal, though, you can also claim a free £10 off coupon to put towards anything in the store that costs £13.99 or more. Using that can score you some seriously good bargains on the likes of Borderlands 3, Control and the latest Assassin's Creed games.
Do browse the Mega Sale page to see what else grabs you, but you'll find a few of the highlights below too.These are prices with the coupon applied - where possible - so do remember to claim it before buying.
Assassin's Creed Origins - Gold Edition for £8.74
Assassin's Creed Odyssey for £6.49
Control for £13.99
Borderlands 3 for £14.99
Satisfactory for £14.29
Anno 1800 for £14.99
Metro Exodus for £7.49
The Division 2: Warlords of New York Edition for £17.49
Journey to the Savage Planet for £4.39
Tetris Effect for £12.39
Far Cry New Dawn for £5.19
Shenmue 3 for £12.49
Watch Dogs 2 for £4.99
Hades for £5.19
Alan Wake for £1.13
Lots to tempt you there, I reckon? Oh, and don't worry if you can't decide between two games to use your coupon on. You'll get an additional £10 coupon with every eligible purchase during the sale, so you can continue to take advantage of the bonus saving as many times as you want.
---
After more top gaming offers? You can find loads over at Jelly Deals. Join us to find the best SD card for Nintendo Switch, our picks for the best PS4 external hard drive or where to find the best Xbox Game Pass Ultimate deal.
---
You'll also want to check in to the Epic Game Store every Thursday over the next four weeks as they will continue to give away a mystery game for free.
The Epic Games Store Mega Sale is live from now until 11th June.