Epic Games president Mike Capps retires
Transitions into an advisory role.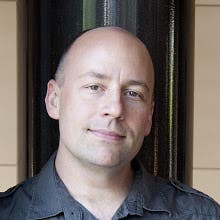 Epic Games president Mike Capps has retired.
Capps, who has a baby boy on the way, said he was looking forward to staying at home and being a dad for a while.
"My wife Julianne and I are very happy in Raleigh, and other than cleaning up baby barf, I don't have much planned," he wrote in a blog post. "I might do some teaching, spend more time on creative writing, and maybe get more active with a few charities."
Capps, who has been with Epic for ten years, will remain on the Epic board of directors as he transitions into an advisory role.
"After dedicating a decade of my life to Epic, and with so many close friends here, it's impossible to just walk away," he said. "I absolutely love this company. If you cut me, I think I probably bleed nanoblack and Imulsion. (Wow, just think about what mixing those would do…).
"Epic founder and CEO Tim Sweeney and other board members asked me to stay on the board, and I'm thrilled to do so as I'm truly excited about our future games and Unreal Engine 4." VP of Development Paul Meegan and VP of Operations John Farnsworth will manage development in Capps' absence.
Capps' retirement follows the exit of two high-profile developers from the Gears of War and Unreal Engine maker in 2012.
In October Epic Games design director Cliff "CliffyB" Bleszinski left "for a much needed break".
And in August Gears of War franchise boss Rod Fergusson left Epic to help Irrational Games get BioShock Infinite out the door.
Chinese web giant Tencent holds a minority stake in Epic Games. At the time the deal was announced in June 2012, Capps said: "Tencent's investment will empower Epic to help us do even more of what we do best, which is making great games and game technology.
"Their expertise in the global online gaming market is second-to-none, and the opportunity to work with them to bring richer experiences to players all over the world is irresistible.
"Epic is excited to be full steam ahead on all of its current plans for this generation of games and the next, with the support of a fantastic partner that believes in our strategy and shares our dream."
Epic Games has a number of games in development, including Fortnite and Gears of War: Judgment.