Epic calls on court to stop Apple's "retaliation" against the Fortnite maker
Quick revive.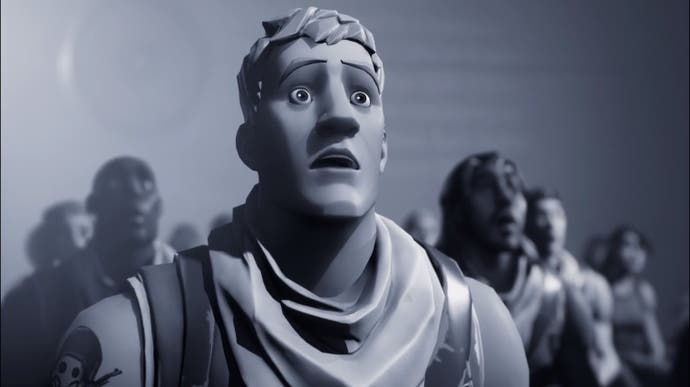 Epic has called on a court to stop what it described as Apple's "retaliation" against the Fortnite maker.
The game company has asked for an injunction to restore battle royale game Fortnite to the App Store as Epic's antitrust case against the iPhone maker proceeds.
Late in August, Apple terminated Epic's App Store developer account, blocking future Fortnite updates. It was the latest development in the two megacorps' public spat that ignited when Apple blocked Fortnite from the App Store after Epic Games circumvented Apple and Google's built-in payment systems, which charge commissions of 30 per cent.
"Today we asked the Court to stop Apple's retaliation against Epic for daring to challenge its unlawful restrictions while our antitrust case proceeds," Epic said. "This is a necessary step to free consumers and developers from Apple's costly, anti-competitive control."
Epic had launched a #FreeFortnite social media campaign in a bid to apply pressure to Apple. But late on Friday it took the next step by filing for a preliminary injunction that would put Fortnite back on the App Store and restore its developer account.
In the filing, Epic argues it will suffer "irreparable harm" in the absence of a preliminary injunction. It said daily active users on iOS have declined by over 60 per cent since Fortnite was pulled from the App Store. According to the filing, iOS is the biggest platform for Fortnite, with an incredible 116 million registered users - just shy of a third of the 350 million registered users Fortnite has in total. Apparently 63 per cent of Fortnite users on iOS access Fortnite only on iOS, too. For them, perhaps iOS is the only way to play.
Epic has some strong words in its filing, saying it's worried it will never see the iOS users it's already lost ever again. Epic insists the Fortnite community has been torn apart (Fortnite's newly released Chapter 2 - Season 4 update did not release on iOS and macOS last month), and some of its other games have been caught in the crossfire. Shadow Complex Remastered, for example, has also been removed from the Mac App Store as a result of Apple's termination of Epic's developer account.
Epic goes on to claim Apple has threatened to block any attempt to apply for a new developer account for at least a year. "The removal of Fortnite from iOS also substantially impedes a major Epic initiative - evolving Fortnite into a full-fledged 'metaverse', a multi-purpose, persistent, interactive virtual space," Epic says. "Harm like this to Epic's flagship app cannot be calculated in damages."
Meanwhile, Epic accuses Apple of being a "monopolist" that maintains its position by "explicitly prohibiting any competitive entry". Pulling Fortnite from the App Store "was a clear warning to any other developer that would dare challenge Apple's monopolies: follow our rules or we will cut you off from a billion iOS consumers - challenge us and we will destroy your business", Epic said.
Apple has said it will let Fortnite back on the App Store if Epic removes the direct payment feature. Epic has so far refused. In a letter dated 10th July 2020 and included in Epic's filing, Douglas G. Vetter, Vice President & Associate General Counsel for Apple said: "Surely Epic must understand that Apple is entitled to a return on its investment and the use of its property. After all, Epic takes great pains to protect its own investments and intellectual property.
"Yet somehow, you believe Apple has no right to do the same, and want all the benefits Apple and the App Store provide without having to pay a penny. Apple cannot bow to that unreasonable demand."
Apple has yet to respond to this latest filing, but it seems unlikely much movement will be made on Labor Day weekend in the United States.