English language Cannon Fodder 3 hits GamersGate
Codemasters turns down chance to publish sequel itself.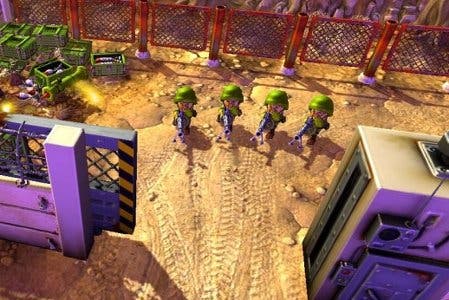 An English language version of the Russian-made Cannon Fodder 3 is now available to download from GamersGate.
It costs £19.95 and weighs in at 542.59MB.
These are the system requirements:
Windows XP (SP2) / Vista (SP1) / Windows 7
Pentium IV 2,4 GHz / AMD Athlon 2500+ (2,8 GHz/2800+ For Vista / Windows 7)
1 GB RAM (1,5 GB for Vista / Windows 7)
1 GB free HDD space
GeForce 7800GTX/ATI RADEON X1800 XT
DirectX 9.0c
DirectX-compatible sound card
Keyboard, mouse
It had been thought that GFI (Game Factory Interactive), which licensed the Cannon Fodder IP from Codemasters, was prevented from distributing the game outside of Russia.
Codemasters told Eurogamer this morning its deal meant the British publisher had first refusal on the game for launch on these shores, but decided it wasn't interested.
So here we are, with an English language version of Cannon Fodder 3, exclusively sold on GamersGate.
As in previous Cannon Fodders, you control a squad of soldiers and make them shoot bad buys while trying to stay alive.
From the official blurb: "Cannon Fodder 3 is a tactical action game, which inherited the style and traditions of the original game. The war goes on and its scale is nearly the same as before. 500 conscripts are sent to meet their destiny. What awaits them? A general's stars or a bed of honour?
"These 21st century soldiers are equipped much better than their 1994 predecessors. They have 8 types of machinery, suitable for land, surface and airborne operations, as well as 17 types of weapon from assault rifles to the nuclear bomb."
Cannon Fodder 3 was developed by Burut CT, a Russian PC game specialist.