Endless Space 2, Endless Legend getting new expansions at the end of the month
Titled Penumbra and Symbiosis, respectively.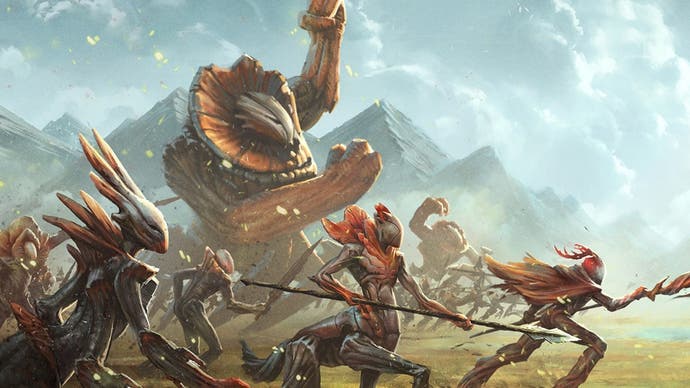 Developer Amplitude Studios has announced a double whammy of new expansions heading to Endless Legend and Endless Space 2 later this month on PC, titled Symbiosis and Penumbra respectively.
Symbiosis, which releases on Steam on January 24th, brings new colossal beasts and a new faction to the turn-based 4X fantasy series. The new faction, known as the Mykara, are described as an ancient civilisation that "rose from unicellular beings to full grown warriors" with the singular goal of bringing balance back to the world.
According to Amplitude, "The Mykara originate from a unique stem city and overgrow points of interest to fuel their economy. While they cannot settle new land, they can turn conquered enemy cities into ghost towns from which they get bonus resources. After a few turns, their symbiosis with the conquered town allow them to gain bonus traits..."
Symbiosis also introduces the Urkans - enormous beasts that appear randomly around the map to take neutral land. Urkans can be tamed through bribery or through defeat in battle, and doing so unlocks a new set of abilities "suited for both defensive and aggressive playstyles".
Meanwhile, interstellar strategy game Endless Space 2's Penumbra expansion, which is also set for a January 24th release on Steam, introduces the new community created Umbral Choir faction, a new hacking feature, and invisibility modules for fleets that - unless countered by detection modules - enable players to infiltrate enemies without being seen.
Hacking, if you're curious, can be initiated from an owned system and aimed toward a target system of a player's choosing. A successful hack will permit attackers to choose from several (currently unspecified) "potentially crippling outcomes", although target systems can attempt to thwart hacking by establishing offensive and defensive initiatives.
Rounding out Amplitude's Endless Space 2 update are the aforementioned Umbral Choir - "silent observers of the woes of the world" that have roamed the universe since the dawn of time. As a faction, the Umbral Choir will only own a single (hidden) system throughout a game. However, they're apparently able to expand by anonymously building sanctuaries on neutral or enemy systems, and can stay undetected through their "formidable use of the hacking feature".
Both expansions will cost £10.99 when they release on January 24th, and there's a 10% discount on Steam until February 4th. Additionally, Penumbra for Endless Space 2 and Symbiosis for Endless Legend are available in a single bundle for £21.99, currently £17.60.