End of an era as Evo, the world's biggest fighting game tournament, ditches Street Fighter 4
The move to Street Fighter 5 nears.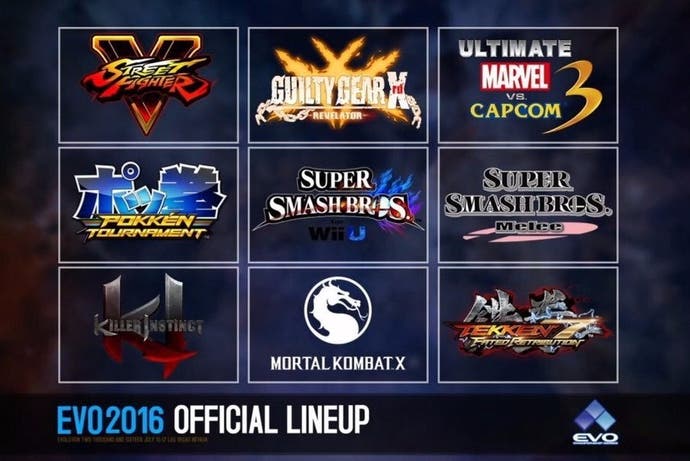 Evo, the biggest fighting game tournament in the world, has set the cat among the pigeons by dropping Street Fighter 4 from this year's event.
Overnight, Evo organisers announced the official lineup for 2016's tournament, which takes place 15th-17th July in Las Vegas.
Street Fighter 5
Super Smash Bros. Melee
Super Smash Bros. Wii U
Pokken Tournament
Mortal Kombat X
Guilty Gear Xrd - REVELATOR
Ultimate Marvel vs. Capcom 3
Killer Instinct
Tekken 7
Of note: there are two Smash Bros. games in there, plus Pokken Tournament, a Pokemon-themed fighting game due out on these shores in March. And the glaring omission: Ultra Street Fighter 4, star of last year's show.
The lineup has sparked a vociferous debate among the fighting game community. Critics say Evo was wrong to ditch USF4, a game that drew thousands of contestants at last year's event. And, when you consider Super Smash Bros. Melee, a 15-year-old Game Cube game, is included, it seems a somewhat bizarre decision.
Others, however, have backed the decision, saying it was time for Evo to move on from Street Fighter 4 and focus on Street Fighter 5, which will have been out for four months by the time this year's event takes place. There's also the suggestion that Super Smash Bros. Melee and Wii U are different enough to justify their inclusion at the tournament, whereas the difference between Street Fighter 4 and 5 is less pronounced.
Much of the debate revolves around the idea the Smash community has received "special treatment" from the tournament organisers, that SF4 has been "snubbed" in favour of an extra Smash game.
Here's one reaction on fighting game website Shoryuken: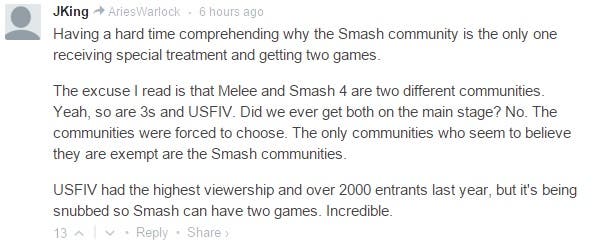 It's worth noting that both Smash games starred at Evo 2015. Here's last year's lineup for comparison's sake: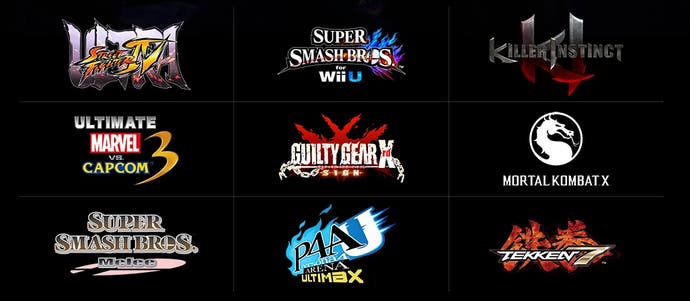 What's happened here is Street Fighter 5 has replaced Ultra Street Fighter 4, Guilty Gear Xrd - REVELATOR has replaced Guilty Gear Xrd - SIGN, and Pokken Tournament has replaced Persona 4 Arena Ultimax.
Evo works with video game publishers, which are keen to see their latest titles star at the world's premier fighting game tournament, to determine its lineup.
Capcom will no doubt be keen for the fighting game community to move on from Street Fighter 4 to Street Fighter 5. Having Evo focus on the latter will certainly help.
As for Nintendo, the inclusion of Pokken Tournament is a clear bid to get that game in front of the fighting game community. It's due out in March.
Whatever the case, Evo's decision to ditch Street Fighter 4 marks the end of an era for what some consider to be the greatest fighting game of all time.
Street Fighter 4 has headlined Evo since 2009, with high-profile players Daigo Umehara, Justin Wong and Infiltration all investing in the game.
Charge your glasses: Street Fighter 4, you had a great run. To mark the occasion, here's a selection of my favourite Evo SF4 moments: