Elite: Dangerous developer Frontier announces Coaster Crazy Deluxe for Wii U
UPDATE: Braben: "The fact we do lots of games in parallel shouldn't upset people."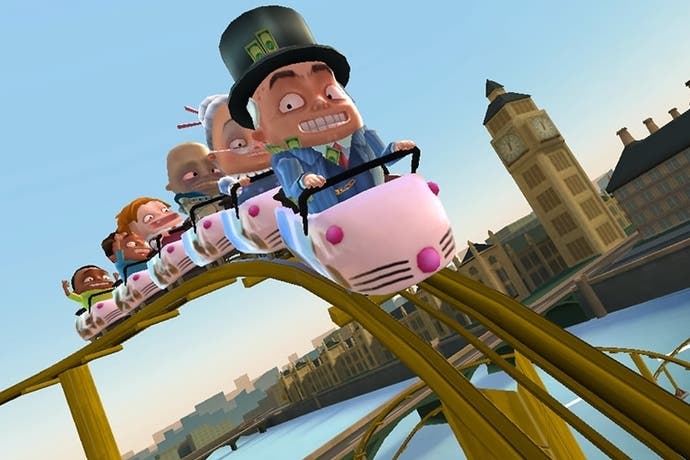 UPDATE: Frontier Developments boss David Braben has addressed concern about today's announcement of Coaster Crazy Deluxe for Wii U and insisted it hasn't impacted upon the crowd-funded, in-development Elite: Dangerous.
"So that's where our Elite Kickstarter money went," LetsGo wrote in response to the announcement in the comments.
"And this is what your Kickstarter funded...," melnificent wrote. "Don't say I didn't warn you when they fail to deliver on Elite."
Speaking with Eurogamer in a phone interview this afternoon, Braben said Frontier has for some time now developed a number of games in parallel, and its 250-strong staff, split across studios in the UK and Canada, are working on multiple projects, of which Elite: Dangerous is just one.
"People think of a company just making one game at a time," he said. "But look at the number of different Kinectimals games and the Disneyland game we did. The fact we do lots of games in parallel shouldn't upset people. It's actually the opposite. It's what made the ability to do Elite possible, because we have such mature tools that are so flexible.
"The teams for each of these games is different. We have had a wide range of output and we will continue to have. If anything it de-risks it, because it gives us extra resource we can apply to different things."
Coaster Crazy Deluxe, a Wii U port of the iOS game Frontier released last year, is due out in the next couple of weeks. Braben said it was developed by a team separate to the 45-person strong Elite: Dangerous team.
"It's a different group of people," he said.
Frontier has updated Elite: Dangerous Kickstarter backers on the game's progress, but has kept much of this information private. Braben said it will make some of this information in the public domain as the target March 2014 release window nears.
ORIGINAL STORY: The developer of the upcoming Elite: Dangerous has announced a Wii U version of its mobile game Coaster Crazy.
Frontier Developments, developer of LostWinds and RollerCoaster Tycoon, recently successfully crowd-funded a new game in the Elite space trading series and is hard at work making it a reality for a 2014 release. But in the meantime it has created Coaster Crazy Deluxe to be released on the Nintendo eShop.
Coaster Crazy Deluxe sees players build coasters using the stylus or the Wii U GamePad's buttons and sticks. Motion actions include turning the GamePad to move the in-game view and shaking it to make your customers puke.
Your coaster customers are called Crazies, and you must keep them happy to earn kudos and gems. For example, you need to make your coaster fast enough to satisfy the Speak Freak while keeping the G-forces low enough to prevent the Professor's Nitro Glycerin from exploding. There are zombies, too, who start infecting other passengers after a period of time.
Online leaderboards will let you compare scores, share coasters and earn in-game currency. There's a coaster building sandbox and daily challenges.
Pricing and a release date will be announced soon.