EA declares war on FIFA Ultimate Team cheaters
New ban system to tackle coin sellers and coin buyers.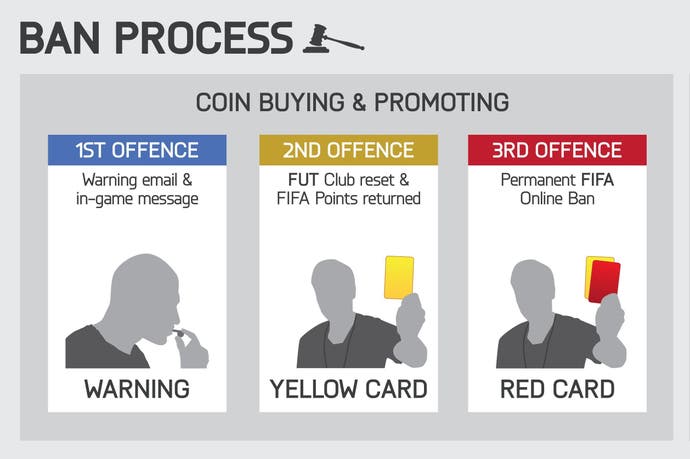 EA is upset at how cheaters are ruining FIFA Ultimate Team and has warned those involved: we're coming for you.
In an open letter published to the FIFA community this evening, EA detailed a new ban process it hopes will help combat cheaters in Ultimate Team - the most popular mode in FIFA.
The initiative revolves around doing more to stop bots, which are used by coin selling websites to farm Ultimate Team's in-game currency and automatically buy items off the transfer market. Coins are then sold for real world cash to players looking to get a leg up in the virtual transfer market.
Coin selling is a huge problem for Ultimate Team. Trading in the FUT Web App has been unavailable since 9th May due to the transfer market search issues caused by coin-farming bots. The bots make a huge number of transfer market searches - four times as many searches than all human FUT players combined. This causes the likes of stuck transfers, missing coins and lost players.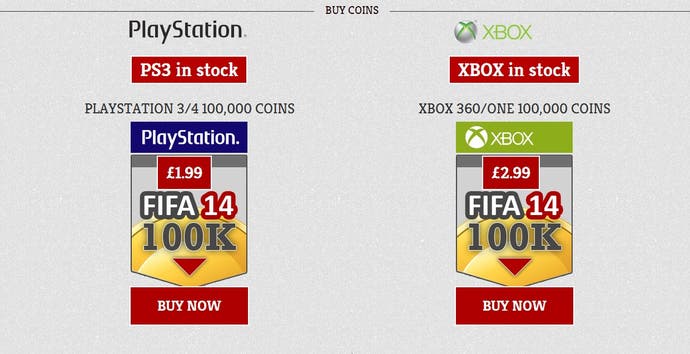 FUT producer Marcel Kuhn told Eurogamer: "I've just returned from Gamescom. I talked to a couple of fans there. We know first hand people are suffering from this and we want to make sure we secure our system to ensure they have the best possible experience when they play Ultimate Team."
EA has formed a security team with the sole purpose of dealing with FUT cheaters, and launched a new ban process inspired by real world football designed to tackle the issue.
Here's how it works:
If you're caught coin buying or promoting coin buying, you'll get a first offense warning. A second offense gets you a yellow card, which triggers a FUT Club reset and returns FIFA Points. A third offense is a red card, which is a permanent FIFA online ban.
If you're caught coin selling or farming, that's a straight red card. You'll be permanently banned from all EA games, including the likes of Battlefield.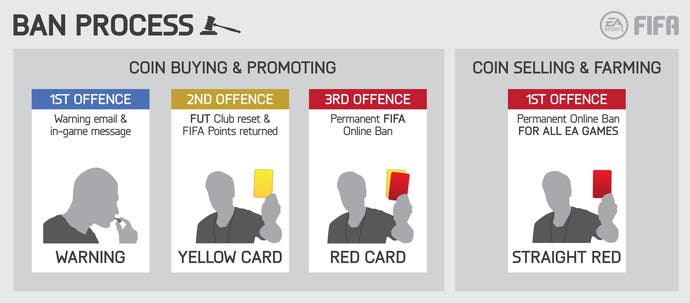 But what can be done about the coin selling sites, which operate outside of the game itself? Kuhn said EA's legal teams are investigating the major sites, but admitted they were a difficult target them because they operate outside of EA's jurisdiction. Its focus, then, is on the bots the coin sellers use, and educating players on the dangers of buying coins, which the company warned risks phishing and compromised accounts.
"What we're trying to do is clean up what they're doing in-game to get their coins, which is essentially what affects the experience," Kuhn said.
"The bots are the vehicle the coin sellers use to get to the merchandise they are selling. If we're able to shut that down and counter their activities, the experience will improve in general, as well as they will have a hard time getting the coins they're selling. This is a key battle."
The problem doesn't stop there. There are a number of popular FIFA YouTubers who are sponsored by coin selling websites. In return for this sponsorship the YouTubers publish links to the coin selling websites in their video descriptions. FUT players have often accused EA of double standards here by failing to clamp down on these YouTubers. In some cases EA has even promoted them.
"We have done already things in the past since the end of the last year," Kuhn responded. "We have stopped interacting or inviting YouTubers who are affiliated with coin selling sites to EA events. That was the first step. Now we will continue to investigate. That's why the ban process around promoting coins is very important.
"Also there are many YouTubers doing this, maybe without knowing what they're causing. So we want to make sure they know what's coming and that going forward they have the chance to rectify what they're doing, before we bring down the banning process on them."
Kuhn called on the FUT community to report FIFA YouTubers who advertise coin selling websites, and promised to employ the same ban process it uses for regular players.
"They will be subject to the same ban process as the other guys," Kuhn said. "They're checked against the same thing. There are no different measures against them. They will just be part of the ban process that we will start going forward with this letter."
Kuhn hopes the publication of the open letter will trigger an improvement in FUT in time for the launch of FIFA 15 in September, although he promised EA would continue its battle against cheaters even after the game launches.
"We've already been working on this in the background," he said. "Now it's just the time when we think we have to go public and educate people. Put the battlefield in our favour for the launch of FIFA 15.
"Rather than being reactive, we have already started to be proactive to try to figure out what these guys might want to do next to keep their coin selling and farming efforts up and running. We have dedicated teams now, which we didn't have in the past, that are working around the clock to counteract these things."