Dying Light 2 Collector's Edition leaks online
Is it real? We're dying to know.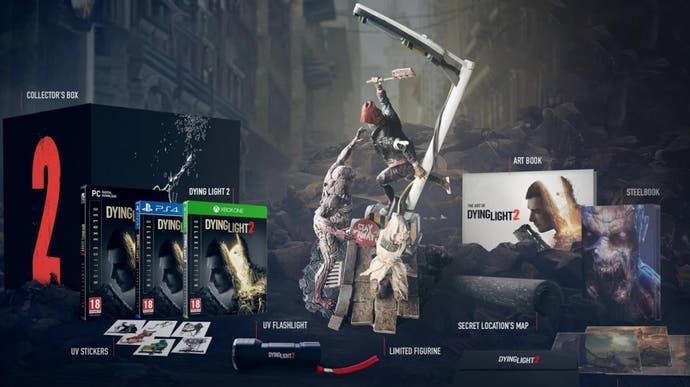 Details of an upcoming Collector's Edition for Dying Light 2 have reportedly been leaked, intimating the game - which currently only sports a nebulous "2021" release window - might be coming sooner rather than later.
On New Year's Eve developer Techland reminded fans to "keep your heads up for 2021" and in early January, said "exciting news" was on the way, but otherwise, details have been pretty sparse.
While the "exciting news" has yet to be confirmed, an eagle-eyed Resetera poster has shared details of an unannounced Collector's Edition, which reportedly popped up on Czech retailer Xzone.cz before being unceremoniously yanked again. It was still available via cache for a few hours thereafter, too, but seems to have been scrubbed out now... albeit not before the internet spotted and screencapped, though.
The image sports a collector's box, UV stickers, UV flashlight, "secret location's map", art book, steelbook, a limited figurine, and a copy of the game, of course, on PC, PS4, or Xbox One. An unsubstantiated claim on Reddit states it was priced at €210.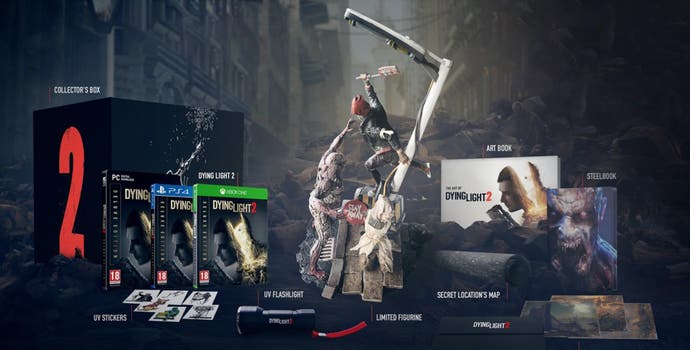 Although the details of the special edition and accompanying picture certainly look legitimate, we can only take this as a rumour right now - here's hoping Techland confirms sooner rather than later, eh?
Dying Light fans have been concerned about the sequel for some time now, not least because Paweł Selinger, who had worked as "narration designer" on Dying Light 2 for the last two years, left Techland at the end of 2020 after over 22 years at the company.
Dying Light 2 was announced at E3 2018 during the Xbox press conference by role-playing game writer and designer Chris Avellone - who later left the project following allegations of sexual assault.
During Microsoft's E3 2019 press conference, Techland announced Dying Light 2 was set for launch in the spring of 2020, but in January 2020 Dying Light 2 was delayed indefinitely. In May 2020, reports emerged that suggested Dying Light 2 was in a sorry state, although Techland pushed back.